The book of Ruth in the Bible is, among other things, a beautiful love story. All the necessary ingredients are present: Ruth the penniless, foreign widow pledging her loyalty to Naomi; Naomi the bitter mother in law determined to come home; Boaz the wealthy landowner with a tender and compassionate heart. No wonder modern day novelists are eager to transpose Ruth's story on a contemporary canvas.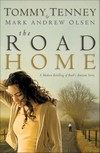 A couple of years ago I read and enjoyed Bret Lott's version of Ruth's story in his novel A Song I Knew By Heart so I was excited to be offered the opportunity to read The Road Home: A Modern Retelling of Ruth's Ancient Story by Tommy Tenney and Mark Olson. The novel opens with Ruth and Naomi living in Las Vegas. Tragedy strikes as both of Naomi's sons die on the same day. Bitter and angry, overwhelmed with grief, Naomi decides to return her home place, the Amish country of Lancaster County, Pennsylvania. What follows is Ruth and Naomi's cross country trek in Naomi's old Impala, Naomi seeking to return home, Ruth seeking to find a home.
While a few of their experiences seem a little too far fetched to be believable (what are the odds, after all, to encounter the same group of bikers in two different towns?), Ruth and Naomi's journey becomes, as its ancient inspiration, a beautiful love story. The book has its slow parts, at times incorporating far too much dialogue to reveal their back stories, yet the authors do a good job of staying true to the original story.
Wife and mother, Bible teacher and blogger, Lisa loves Jesus, coffee, dark chocolate and, of course, books. Read more of her reflections at Lisa writes….