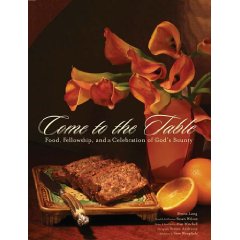 Come to the Table: Food, Fellowship, and a Celebration of God's Bounty (published by Thomas Nelson) makes me think of life in a Bed & Breakfast. The pictures evoke memories of calmness and serenity. In other words, life without children. However, the stated purpose of this book is to teach and share how we can celebrate life with family and friends on a daily basis as opposed to strictly on special occasions.
This book is filled with poetry, quotes on hospitality, encouragement for the faint of heart, pictures to inspire and very delicious sounding recipes! In this case I browsed through each recipe and read the directions and it's all very simple and straightforward. They just put the food in pretty dishes that you would never serve to a two year old but food that said two year old would certainly eat!
I like this book very much because it encourages the reader to make a celebration out of the "ordinary" days. The authors of this book rally us on with the reminder that God meant for us to enjoy life and have it be full and meaningful. Yes, life can be busy, harried and rushed. This book is a useful took for slowing things down and savoring the moments.
This is the kind of book that would jump up and down and sing if you bothered to pull out your best dishes on a Tuesday night and feast upon them! This book is about lighting candles for no apparent reason and shouting joyfully in praise for what God has brought you through and is currently walking you through. It's the type of book that would say in the middle of a hard time, "Give thanks, for God is good all of the time." Even the pictures in this book are inspirational. Like I mentioned, it starts to give you a feeling of being in a Bed & Breakfast and just thinking about being in a B&B makes me feel more restful somehow. (You so think I'm exaggerating, don't you? ha! I'm not.)

Come to the Table would make a great gift book for people in your life you know love and are blessed by hospitality. It would also be a good tool if you are trying to develop that gift and need a little help with your creativity. As I said, I enjoyed it and am eager to put some of its suggestions to good use.
Carrie comes by her book obsession honestly, having descended from a long line of bibliophiles. She blogs about books regularly at Reading to Know.