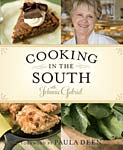 These two cookbooks might as well be called "The I Love Butter" cookbooks. Raise your hand if you live or have lived in the South and you have any idea what I'm talking about! Because I really care about testing the recipes before recommending any given cookbook, I can assure you that these books can create some of the most fantastically delicious food that I have ever tasted in my life. It's real home cookin'. The kind that promotes gym memberships. But it's so worth it, right?!
I had FUN cooking southern food for a few weeks, let me tell you. I am now eating plenty of salads but I do not regret having sacrificed on behalf of you all, our dear 5 Minutes for Books readers. I did it all for you. And my husband did it with me. You can leave gracious thank you notes in the comment section and good ideas for yummy salads also!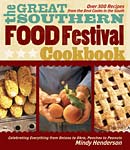 The Great Southern Food Festival Cookbook was something else and I probably cooked more out of this book than Cooking in the South. So which do you need? Well, if you want to be a good southern-style cook, of course you need both! They are uniquely beautiful in their own ways. I'd have to say that Cooking in the South with Johnnie Gabriel has a more well-balanced approach to food. There are more low fat recipes available in that one which includes roasted chicken and simple bean and rice side dishes. The recipe for southern style creamed corn makes corn so much more exciting I do have to say.
The Great Southern Food Festival Cookbook is exactly what it suggests: a food festival! This book has recipes from the Virginia Pork Festival to the Alabama Blueberry Festival. Travel with this book from the Mississippi Slugburger Festival to the Louisiana Sugar Festival and every place in between. We can assure you that the Southern Pecan Sweet Potato biscuits are delicious, as was the Hashbrown Casserole. We even had Baked Triple Cheese Grits (because you can't go south without experiencing grits, right?) which were quite delicious. Our whole family enjoyed those. Of course, cheese and butter make anything taste good, right? (Yowee!) Our hands down favorite recipe that we tried out of this book was the Pesto Cornbread with Chicken and Sundried Tomatoes. (I so need to stop eating.)
At any rate, these recipes were lots of fun. I found the ingredient list in both books quite common. In other words, you won't find it difficult to shop for the necessary ingredients. I live in the Northwest in an area that is quite focused on "being green" and eating healthily. I didn't think that any of the recipes that I tried would be hard to tweak for health sake although again, for the sake of you readers, I stuck to the recipes as I was cooking for this review.
Both of these cookbooks are published by Thomas Nelson and I'd recommend them to anyone who loves southern cooking in theory or reality. Fun, fun recipe books! I'll be using these frequently in the future –just not as concentrated. Ha!
Carrie comes by her book obsession honestly, having descended from a long line of bibliophiles. She blogs about books regularly at Reading to Know.