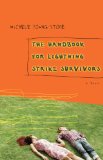 Taking two independent stories, rich and detailed, each revolving around a protagonist who doesn't quite feel as if he/she fits in from childhood on, Michele Young-Stone has released her debut novel, and what a debut it is. Alternating these two stories every few chapters, often taking place several years apart, the result is a dynamic and interesting novel called The Handbook for Lightning Strike Survivors.
The layout of this novel is akin to a bunch of puzzle pieces being laid out in a straight line upon the table, out of order but each piece large enough that a vision of the whole picture becomes clearer as you continue to view them down the line. Soon enough, you can begin to see how they will come together in the end. With many novels, it's easy to speak about the plot without giving away too many details, but I'm hesitant to be too specific with this one. In less specific terms, the title of the book speaks to the fact that more than one character in the novel is affected by lightning strikes, either being struck themselves or having a loved one get hit, and chronicles the after effects, both direct and indirect, of these experiences on their lives.
I feel as if this is the type of novel that can leave different readers with varied reflections. For me, I found a theme of seeking relief from the pains that life can bring in the form of abuse, neglect and hurtful relationships to be present for several characters, even for those who were on both the giving and receiving sides of the abuse. The manners in which different characters sought relief, or often simply numbness, ranged from drugs, alcohol, food, physical relationships void of emotional connections, and immersion in either the mundaneness of life or the intensity of an individual passion. These two primary story lines are expertly intertwined, and when the links are made among the large cast of characters, it is as complexly interconnected as can be.
While I may not be saying much about this novel's plot, and honestly it's simply because it's my opinion that any potential reader would want to experience it as the author lays it out, I can confidently say that The Handbook for Lightning Strike Survivors is one remarkable, and unforgettable, debut for Michele Young-Stone.
Dawn isn't usually so evasive on her blog, my thoughts exactly, which is often too chock full of details of her life. Just ask her often surprised husband.