In Molly Ringwald's new book Getting the Pretty Back: Friendship, Family, and Finding the Perfect Lipstick, she looks back on her teen years that she spent on the big screen. Molly Ringwald is about my age, and so I grew up watching her, and the John Hughes movies that she starred in are so typically 80's, that I just had to revisit them.
Read my interview with Molly Ringwald over at 5 Minutes for Mom, and enter to win a copy of her new book Getting the Pretty Back.
The book is fun. It's not a beauty book, or a fashion book, or a self-help book. It has elements of all of this, but reading this book is just like having a good candid chat with a girlfriend. Ringwald dishes on personal style and taking care of yourself — physically, socially, and emotionally.
The text type is fun and there are lots of colorful drawings by Ruben Toledo. Because of the fun way the book looks, I think that this would make a great girlfriend gift, whether she's turning 30, 40, or 50.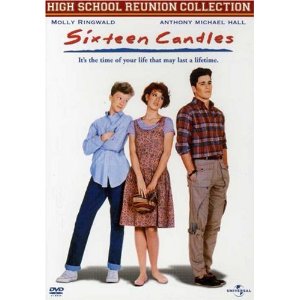 I thought I remembered Sixteen Candles. I associated it with Molly Ringwald's crummy birthday, overshadowed by her sister's wedding, Anthony Michael Hall as the geek, and that other Matt Dillon-looking dude as the cute unattainable boyfriend. I was sort of right. What I didn't remember was that it really pushed the envelope. Read more over at my blog Snapshot on my thoughts on movie ratings.
I didn't remember that John Cusak and Joan Cusak were fellow geeks.
It was fun (but a little shocking — the 80's were actually pretty wild compared to the 90's, I think), and I do think that it sums up teen angst, wanting to grow up, and be you — not who everyone wants you to be — quite well.
I watched Pretty in Pink second. I didn't remember much about that movie at all. I remembered that it starred Andrew McCarthy (who I sort of crushed on in The Breakfast Club, which I didn't revisit for this column because unlike the other two, I've seen it many times on television over the years, although it probably does merit some cultural examination). I didn't really remember that it was a rich guy/girl from the other side of the tracks story. So much so that it was a big deal that they would even want to date each other. Was that the 80's mindset at work again?
Sweet Duckie, played by Jon Cryer, was the best friend who wants more. Is there a more perfect teen movie/book plot?
I remembered "What about prom, Blaine?" wailed by Molly Ringwald plaintively, and forever immortalized as teen angst personified. I did not remember James Spader, who played a smarmy rich-guy jerk (who did not look 18 at all), but who will forever be a smarmy jerk-type.
I was actually surprised by these movies. If you would have asked me, I would have told you that Sixteen Candles was the better movie, or the more teen typical movie, but I think that the winner of both titles has to be Pretty in Pink.
If you haven't seen it in a while, I recommend you relive your 80's past (or if you are not in my same decade, look at it and laugh — hard). But I would hold off on sharing it with your kids until you read my thoughts on these two particular teen movies.
Jennifer Donovan's friends surprised her with what turned out to be a very-lame surprise sweet 16 party. Read about other joys and disappointments at her blog Snapshot. And remember to click over to enter to win Molly Ringwald's new book Getting the Pretty Back at 5 Minutes for Mom.