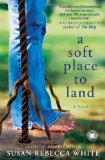 A Soft Place to Land by Susan Rebecca White is the story of Julia and Ruthie, half-sisters who are separated to live with different relatives after their parents' death when they are teenagers. We learn about their lives through letters that they write and mostly from the younger sister Ruthie's point of view. Their lives take very different paths, although one will never know if it was nurture or nature.
I do not always look for perfect characters who always do the right thing, or who are just like me, but I do want to feel drawn to them. Something about these characters or the way their story was told was lacking, and yet the book was highly readable.
I'm not exactly sure why this book lacks the "wow" factor that has to exist to move my opinion from good to great. The writing was good, the setting was very interesting including forays into San Francisco and Atlanta, exclusive private schools, and Berkeley college. Current events from the period that the novel spans — 1993 to 2009 — add to the realistic setting.
Some of the interesting themes of the novel are losing your parents at a young age, sisterly bonds/love/conflict, food (this is yet another great well-developed theme/setting), and sacrifice (specifically those that women make).
I have no idea why I didn't love this book. It has all the makings of the type of book I do love (and it's causing me some reviewer's angst to be honest!). This is a book that some people will love. Others may feel like me — somewhat more ambivalent — but if it sounds interesting to you, I feel fairly certain that you won't dislike it.
I look forward to seeing what Susan Rebecca White writes next.

Jennifer Donovan loves a good story, and reading complicated novels about complicated characters remind her that we all have a story. Read some of her story at her blog Snapshot.