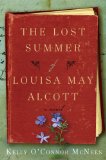 Several months ago, I read Little Women
for the first time. I don't know how I made it 36 years without reading this novel (or watching the movie), but I did. When selecting titles for this year's Classics Bookclub, I knew Little Women
needed to be at the top of the list. By the time I finished this beloved story, I felt like the March sisters were my friends, and I was sad to see them go.
Most people know that Louisa May Alcott used her own family as a model for the Marches, and many people see similarities between Jo and the author. Louisa May Alcott, however, differed from Jo in many ways. In her new novel, The Lost Summer of Louisa May Alcott
, Kelly O'Connor McNees explores one summer of Lousia May Alcott's life. The novel, which centers around the summer of 1855 in Walpole, New Hampshire, is based on a few known facts and developed using details about nineteenth century New England life. Although the novel stems purely from the author's imagination, the story is intriguing, plausible, and purely enjoyable.
Because of the similarities between the Alcott family and the March family, reading this book felt like a visit with friends. Being a relatively new fan of Miss Alcott, I appreciated learning more about her life. This is an imagined tale, so it may not appeal to scholarly followers of Louisa May Alcott, but I found it to be a delightful story. Since most of Miss Alcott's letters were destroyed, stories like this can help us to envision her life and the events and relationships that shaped her work. If you are a fan of Little Women
, I highly recommend The Lost Summer of Louisa May Alcott
.
Lauren is a wife, a mother of two, an avid reader. She blogs at Baseballs and Bows. Thanks to the Amy Einhorn Books for providing the review copy of the book.