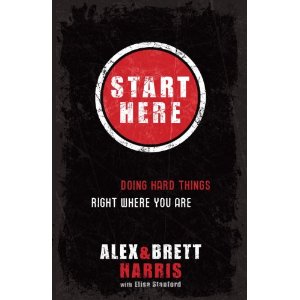 If you haven't heard of Alex & Brett Harris, you might be familiar with their older brother – Josh Harris of the I Kissed Dating Goodbye
fame. (These days it's more of a Dug Down Deep
fame.) I read Josh's first book when I was a teen and committed to kissing dating goodbye early on. Yup. I'm one of those ultra conservative types who married the first guy I "dated." (And yeah, we called it dating.) I really appreciated Josh Harris' ministry when I was a teen as I found his way of speaking to be an inspiration to me to make certain life goals and stick to them. Whether or not Harris himself would still stick to his original message on dating, I think the general theme of it still rings true and he impacted many teen lives when he still had hair himself. (Heh. I think he'd forgive me for that?)
Not being a teen any longer (dare I say 'thank goodness'?!), I hadn't bothered to see what the latest up-and-coming Harris boys had to see to the new teen culture. When offered a chance to check out Start Here
: Doing Hard Things Right Where You Are (which is a sequel to their first book Do Hard Things
: A Teenage Rebellion Against Low Expectations) I jumped at the chance!
I have not yet read their first book so in some ways I feel like I came in mid-game by reading Start Here
. It is a direct follow up to the first book. That said, you can easily pick this one up and read it on its own. It's easy enough to catch the gist of what they are saying. And what are they saying? Their basic message is this:
Teenagers can be useful, productive and engaging members of society – right now.
Twins Alex and Brett are out to share the message with (Christian) teens that they do not have to accept the world's message that they are to spend their teenage years wallowing around, bored. The Harris Brothers want to encourage teens of today to get up off the couch and away from the video games and do hard things right now. They want to encourage teens to know and believe that life is NOW and not some years from now when you are in your twenties. You can do anything you want to do – NOW. In fact, they'd encourage you to try.
They are offering a message to counter the culture which expects very little from teens when it comes to attidude, behavior and productivity levels. Now, the Harris guys aren't into working yourself into a dither and never allowing yourself to relax and enjoy life. People in every stage of life need to master the art of play (in my opinion.) Rather, they suggest that you find something that you feel passionate about and start pursuing it! Don't wait for high school gradutation. Don't wait for college. Don't wait for marriage or your first kid. Be responsible and life productively in this very moment. Want to raise money to drill wells in Africa? What's stopping you? Want to organize a city-wide campaign for a cause you believe in? Start asking questions, get involved, and find people who are like-minded to support and help you! There is no reason you should feel confined to your bedroom or the couch because you don't feel "old enough" to institute change.
The Bible verse which would be describe the message of this book is:
Don't let anyone look down on you because you are young, but set an example for the believers in speech, in life, in love, in faith and in purity. 1 Timothy 4:12
Start Here: Doing Hard Things Right Where You Are
is motivation and encouragement for teens to 'be all they can be' while they are teens. In a lot of ways – this is the same message that their brother was spreading when he was their age. Except in this case, I think Alex & Brett's message is a bit wider and less constricted to one particular topic. I think it's still a valid message – real life is NOW. So make the most of it!
To get a better feel for Alex & Brett and their ministry and message, visit their website entitled The Rebelution.
Carrie comes by her book obsession honestly, having descended from a long line of bibliophiles. She blogs about books regularly at Reading to Know and Reading My Library.