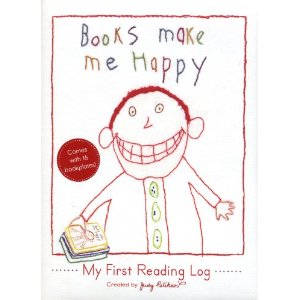 This book arrived in my mailbox by surprise and at first I looked at it with some suspicion. After all, the cover art was kind of curious. However, once I glanced at the whole title – Books Make Me Happy: My First Reading Log
– I was eager to crack open this book and find out what it was all about!
Stay with me here because this is awesome….
Want to get your kids hooked on reading this summer? Books Make Me Happy
beats out any library reading program that I can think of, with all due respect to the library. Come up with your own reward at the end of this if you must – and it'll be doubly worth it! Created by Judy Pelikan, we discover in the introductory note to parents that the idea for this book was born in a bookshop in Littleton, New Hampshire. Pelikan was spending a summer in the area and discovered The Village Bookstore which was a hubbub of activity in this small town. This particular bookshop hosted contests for bookmark illustrations for the local children. Pelikan discovered a bookmark that had been illustrated by one of the local children with the following caption on it: "Books Make Me Happy." She decided to embroider the image on a piece of white linen for her own pleasure. That was her first project. She soon found herself embroidering more of the bookmarks and the idea for creating a reading log for children, using these images, came to life.
Interspersed throughout this book are the embroidered versions of the children's original illustrations (which she did obtain the rights to use, by the way!) The cover art on this book is the first bookmark that she recreated.
Now for the reading log part! (I'm feeling perfectly giddy about this!) Most of the page spreads allows for your young reader to document the book that they read. But it's not boring. Oh no! The following information is to be filled out on each page:
Book title
Author
Illustrator
Description of Favorite Part of the Book
"I will recommend this book to a friend because:"
The date the book was read
A square box designed for the child to create their own illustration inspired by the book.
A signature of the reader
There are also pages that ask the young reader questions – such as the following:
"What are your five favorite books?"
"How does reading make people smarter?"
"What is your favorite place to read a book?"
Books Make Me Happy
is a great way for an early reader to keep track of the books that they are reading, to be creative, and to think through why they like to read the particular books that they do. I LOVE it! I'm quite a huge fan of this book and it I don't feel hard pressed to recommend it to you. My son, being only 3 1/2, is a bit young for this book at the moment. I'm going to hang on to this copy though and will be eager to pull it out once he begins writing for himself. I look forward to seeing what he will record on his initial independent reading journey!
Now, for some even better news (beyond the fact that this book exists in the first place, that is!) The publisher, Workman Publishing, has offered a copy of Books Make Me Happy: My First Reading Log
to one of our readers here at 5 Minutes for Books. Would you like to win this for your child to explore with and use as they begin their reading adventures? Well then – simply leave a comment below! No doubt this is one that both parent and child can enjoy.
Books Make Me Happy
? Well this one certainly makes me happy and I'm delighted to have an opportunity to make one of you feel the exact same way. Good luck!
We'll announce the winner in our June 2 book giveaway column.
Thanks, Workman Publishing, for sending me a copy to review. This one is all my pleasure!
Carrie comes by her book obsession honestly, having descended from a long line of bibliophiles. She blogs about books regularly at Reading to Know and Reading My Library.