Editor's note: Thanks to Cindy Hudson for this guest post. Read my review and enter the giveaway of her book Book by Book: The Complete Guide to Creating Mother-Daughter Bookclubs — open through Tuesday.
From the time they were born, I've always read to my daughters. Starting with Pat the Bunny and Sandra Boynton's board books, we spent countless hours on the couch, propped up on pillows in bed or in the rocking chair. Once they reached an age when they wanted to listen to the same books, we would all snuggle together, one girl on each side of me as I read and slowly turned the pages of beautifully illustrated picture books. After that came early chapter books like The Magic Tree House and Junie B. Jones. We read some of those so many times I could almost fall asleep while reading and not miss a line.
Starting a mother-daughter book club with friends, then, seemed a natural extension of our love of reading. Even though my daughters were able to read book club books on their own when we got started, we kept reading together. It was fun to laugh at humorous passages or wonder about something we learned. After putting the book down we always talked about what we had just read, and some of our best discussions came even before we showed up at book club meetings.
Reading together is the thread that continues to run through our lives, even now that my daughters are mostly grown. It's a way for me to connect with my oldest daughter, now off at college, when she comes home. We'll pick up a book, curl up on the couch, and next thing you know we'll be laughing or talking about all kinds of topics and ideas we never expected to discuss.
For my daughter who's still in high school, reading with me is how she unwinds after a long day at school and before a long night of homework. Normally, she's not much of a talker. But when the book goes down, she often opens up about similar situations she's encountered with friends or at school.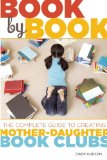 You can expect to find many benefits from being in a mother-daughter book club: improved literacy skills for your daughter, a strong social network with the women and girls in your group, broader connections to the wider community around you are some of the bigger ones.
Yet I believe the biggest is the connection you foster with your own daughter as you continue to read books together and talk about the ideas and issues you find in them. Would we have continued reading together even without book club? Maybe. But I found that being committed to the group is part of what kept us sitting down together every day, even if it was just for ten minutes.
This time we carved out for the two of us has been a gift. It's given us a window into each other's lives that I feel we wouldn't otherwise have had. There may be many activities I look back on in the years ahead and wonder why I spent so much time on them. I don't expect that reading with my daughters will be on the list.

Cindy Hudson is the author of Book by Book: The Complete Guide to Creating Mother-Daughter Bookclubs (Seal Press, October 2009). She is the founder of two long-running mother-daughter book clubs, and she lives in Portland, Oregon with her husband and two daughters. Visit her online at www.MotherDaughterBookClub.com.