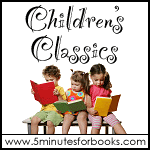 It's time for another Children's Classics carnival. Next month (December 9) let's look at books with a Christmas theme. They could simply mention Christmas, take place at Christmas, or make you feel the Christmas spirit all year long.
This week we are looking at books that have been awarded the Caldecott Medal. These books are awarded this medal based on the art within the book.
Some questions you could consider:
Does the type and quality of pictures affect your selection of books? Your child's?

Would you recommend this book? To whom?

If you wouldn't recommend it, do you think it worthy of this distinguished award?

Has your child recently discovered classics? What is his or her perspective on the differences in classic and contemporary children's writing?

Have you recently shared a childhood favorite with your own child? How did you each respond to it?
So, please share. Write a post on your own blog (or in the comments) reviewing one of the books that has won the Caldecott Medal. Then link that post directly to the Linky here. If you happen to link up incorrectly, if you refresh the page and see a Smiley Face, you can click on that to remove your link and try again. Or you can email me or leave a comment, and I'll fix it for you.
As always, thanks for being a part of the community.