I like finding unique and fun children's books to use with my son and give to others as gifts – something a little out of the ordinary. I also like the books to be quality and what I frequently find is lack of quality in anything labeled a "gift book." However, I've stumbled upon a few ideas that I think you might find lovable in their own way.

Dorling Kindersley offers two books to engage the imagination in children from the ages of 1-5 years. One book is geared more for boys (which my son has affectionately dubbed "the wheel book") and one geared more for girls (geared towards the inner shopaholic). Each title is equipped with a special gadget (in the wheel book case, there is a steering wheel; in the shopping title there is a credit card machine & credit card), lift the flap, maps, mix and match, etc. Each page is filled with information, games and ideas to foster imaginative play.
These are cute books that you might also consider saving for a "special occasion" such as a car ride or plane trip. Just a little something out of the ordinary that might catch their eye (and hold it) for a little while.

Also, I was recently tipped off to Barefoot Books and have been exploring their site and reading products. Amazing stuff. I'm really pleased with everything I've seen so far and the books I've been able to look through. This is just a great children's book publisher. They have one title in particular that caught my eye for my son: The Beeman. It tells the story, in a rhyme fashion, of a young boy's grandfather – the Beeman. It talks about how bees are cared for, how they behave and how honey is made. Not only is it well illustrated and entertaining, but cute too.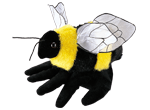 Barefoot Books also offers a line of animal puppets that accompany their books. They have a bee puppet that looks awesome! One gifting idea is to pair a book with a matching puppet which is sure to delight any young toddler that I know of! You can check out more of Barefoot books and their puppets by visiting their website.
Do you have ideas for holiday book gift giving that you'd like to share? Please do! I may just glean from your suggestions as I'm making purchases and/or creating gifts this coming year.
Carrie comes by her book obsession honestly, having descended from a long line of bibliophiles. She blogs about books regularly at Reading to Know.