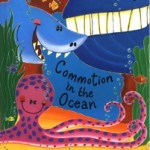 Looking for some books to add to a unit study? Is your kid a fan of Nemo and can't get enough about fish? Here are some books that may have some appeal. Tiger Tales has published a series of books about Fidgety Fish and his friends (you can read our review of those books here). They have several other fishy titles in their collection also — all of which are extremely adorable and will make it hard to choose which to read first. Commotion in the Ocean is a story about various ocean creations told in rhyming fashion. There is a paragraph of rhymes for each: dolphins, crab, the angel fish, turtles, sharks, lobsters and many more. This book is illustrated in Tiger Tale fashion in that it is bright and colorful, yet simplistic in design and nature. Great books.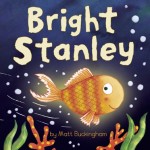 Bright Stanley is another book by Tiger Tales. This is a story about one of the brightest, sparkliest fish in the ocean. Stanley was supposed to meet up with a group of his school-of-fish friends who were swimming to cooler waters for the summer. He rushes to the meeting place only to discover that his friends have left without him. He spends the remainder of the book trying to catch up to the group and meeting with various adventures along the way. Again, the colors used in the illustration of this book are amazing. Coupled with the fact that Stanley's midsection is really a bright and shiny gold, this book is definite eye-candy for the young.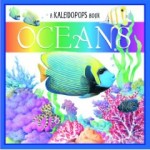 For a more realistic feel, with ocean facts included, I present Silver Dolphin's Kaleidopops book on Oceans. Each page includes a sturdy pop-up with various information on everything from the octopus and squid to the triplewart sea devil and pinecone fish. There is a lot of information in this book presented in a very unique and curious way. I'd peg this book as being good for ages 5 and up. I can testify to its adult appeal as well, although I don't think I was exactly the audience Silver Dolphin was shooting for.
These are all fun books! Do you have a book about fish that you have loved and have shared with others? Given my son's recent fascination with ocean life, I'd love to hear about any or all of them! Let me know.
Carrie comes by her book obsession honestly, having descended from a long line of bibliophiles. She blogs about books regularly at Reading to Know.