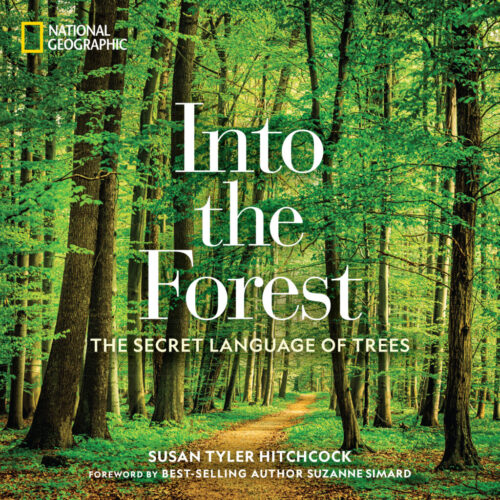 Into the Forest: the Secret Language of Trees is that very best kind of gift book–the kind with gorgeous photos that you can dream over for hours, interspersed with short interesting prose that either teaches you something or inspires you to dream still more. It's a nice size too. These are the kind of things I consider when choosing books for my own coffee table, and I'm guessing you do too.
The book of course contains the unparalleled beauty and quality of National Geographic's photos. I can lose myself for hours in close ups of bark swirls, acres of green trees covering swathes of bluebells, trunks woven and twisted in fantastical shapes. But the journalism also shines. Whether it's reading of the Ute people's twisting saplings to symbolize the lasting power of their prayers, or folk stories of the Maori who believed their Forest God first gave life, these brief articles illuminate the web-like root systems that bind people together across miles and millennia.
Did you know that aspirin first came from the bitter inner bark of the willow tree? Or that in India, roots of the ficus are twisted together to form a living, growing bridge? The tallest tree might be Hyperion, a 380-foot-tall coast redwood in California, but the largest is a Montezuma cypress in Mexico, at nearly 120 feet in circumference. The oldest individual trees are probably the bristlecone pines, also in California, at nearly 5000 years old, but there's a spruce in Sweden that seems to be a survivor of an old strand of trees, alone now at 9500 years.
Into the Forest is a delight. I highly recommend it.