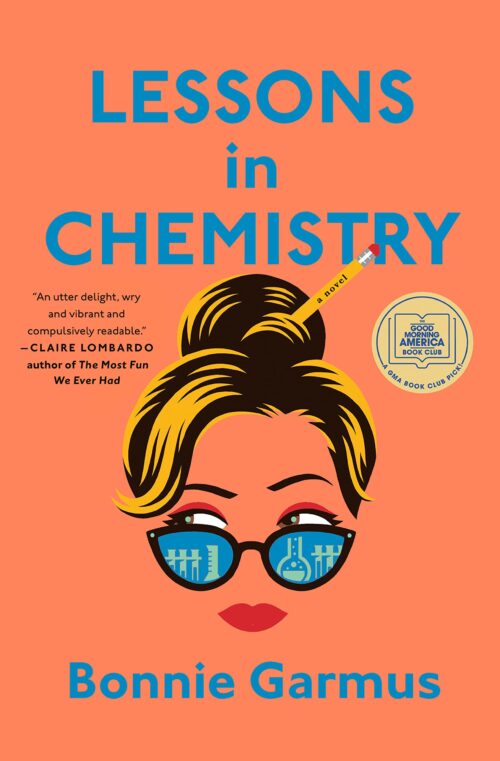 I am a woman who works in STEM — I have worked in software for over 25 years, where I am always one of a few women in the room. It's improved over the years, I'm no longer the only woman on my team, but I'm still very much in the minority. Books like Lessons in Chemistry by Bonnie Garmus remind me how glad I am to be a woman in STEM in today's world.
Elizabeth Zott is a chemist. Don't call her a woman chemist, she's just a chemist. But she's treated like a secretary, sexually harassed, and paid way below the men in her department, even though she's the smartest one there. When Elizabeth falls in love with the genius and darling of the lab, everyone else is suspicious of her motives. Oh and it's also the late 1950s, when women are expected to be housewives. And not very smart.
When Elizabeth finds herself a single mother and out of a job, she takes the only opportunity offered to her – the host of a cooking show where she treats the kitchen like her chemistry lab. Elizabeth sees the world in terms of chemistry and uses chemical formulas (she refers to salt as sodium chloride) and explains molecules and different types of bonds, much to the chagrin of the show's producer. But women, as it turns out, prefer to not be talked down to, and the show's popularity quickly rises.
Of course there's way more to this story than just Elizabeth's cooking show. There's romance, humor, a fairy godmother, a precocious child (Elizabeth's child wouldn't be anything but), a nosy but well-meaning neighbor, a former enemy turned friend (there's actually a few of these), and rowing. And while most of the men in the story are jerks, there are a few good ones in there. And that's all Elizabeth needs.
I highly recommend Lessons in Chemistry. I'm going to go tell my children to set the table, because I need a moment to myself.