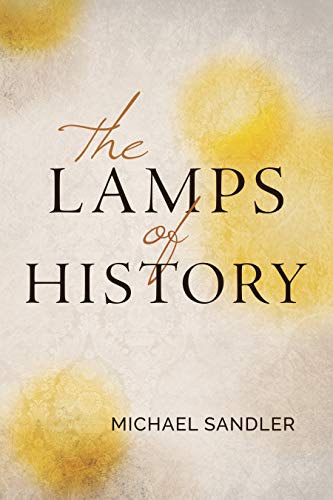 One thing I love about poetry is how it can reveal something true about the author in lieu of surface facts. A memoir tells us who, and what, and where and when. But poetry takes us deeper. It's both more and less specific. And so, by the end of Michael Sandler's collection of poetry The Lamps of History, I felt that I had been reading a memoir in images.
"Why dwell on a mute rectangle of lawn?/Like you, I don't admit/the dead commune,/although perhaps you're still adept/at penetrating gesture and look" he writes in his poem Impediments. "See, I'm placing a few stones,/a caller's monument/distinguishing yours from the other plaques/To you a pointless custom?/To me a treatment for stammering/at atonement's open crypt." I feel I have learned something about not only the poet's relationship with his father, but I have remembered something about my own relationship with mine.
Sandler's poems deal with history both personal and collective. Throughout the book is a series called "Still" that he wrote in response to certain photographs by Roman Vichniac documenting Jewish life in Eastern Europe between 1935 and 1938. The poems, with titles like "Still: A Porter Asleep on Top of his Carrying Box" or "Still: Salesman on His Way to the Railway Station" invoke not only the photograph, but the viewer's response to it, and one viewer in particular.
Although the collection is a little uneven, there are some real gems in it. Many of his poems involve looking back–to his childhood, to his parents' childhoods, to past relationships. The poems weave in and out of time, wedding memory to present reality. Sandler is an intellectual poet, with an impressive vocabulary (he used to be a lawyer but includes so many classical references that I would have guessed English professor). Even though your lived experience may look different on the surface, yet the images he evokes will feel familiar.



Purchase Link:Amazon
Author Link:sandlerpoetry.com