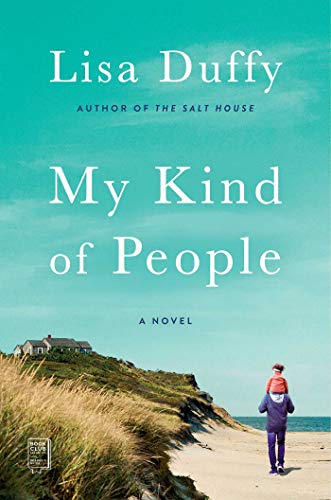 Sky was named after the hurricane that was raging over Ichobod Island (off the coast of Massachusetts) when she was born, bundled, and left on the table at the fire station. Now, 10 years later, her adoptive parents were both killed when their car went off a cliff, and she's once again alone. An artistic and sensitive child, she often retreats to her tree house to be alone.
Her parents left her in the charge of her dad's best friend, Leo, who also grew up on the island but moved away. Leo and his husband Xavier are back, trying to figure out how to balance this new normal. Xavier doesn't want to live on the island, but Leo can't imaging forcing Sky through another loss. Plus he's happy to be back.
Maggie, a neighbor who's always happy to help look after Sky, is dealing with her own problems. She's finally able to express her anger at her husband, who's the kind that is getting #metoo accusations. She blows up at her best friend Agnes, the local busybody and sanctimonious type, for inviting Sky's adoptive grandmother to the island without checking with Leo. Agnes disapproves of Leo and Xavier and makes that very clear. But Lilian (the grandmother) is proving to be a more complex character than Leo gave her credit for. Leo only wants to do what's best for Sky, but it's hard to suddenly be a parent to a 10 year old.
My Kind of People is okay for a fast read. The sentences are very short. And often start with prepositions. You will see the supposed plot twists coming from a mile away. You will figure out who the mystery woman in italics is by about her second entry. But it's not a bad read. It deals with good issues in a heavy-handed way (Be kind to people! It's bad to be homophobic! Here's a nod to mental illness!). It's the sort of book that gets left in little free libraries and on the shelves of coffee shops with couches. It's probably not the worst option there.