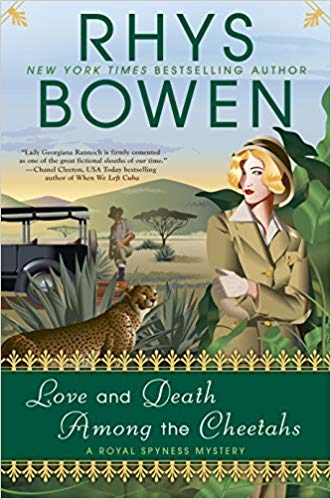 My favorite clumsy royal is back! Lady Georgina Rannoch, who is something like 35th in line to the throne, has finally married her love Darcy in this 13th installment of the delightful Royal Spyness series set in 1930s England. (linked to my review) Georgie, whose deadpan humor and predilection for getting herself into scrapes makes the series such a delight, is surprised and happy when Darcy announces he's taking her to Kenya for their honeymoon. She is asked by Queen Mary to keep an eye out for the presence of one Mrs. Wallis Simpson, who seems to have such a hold on the heir to the throne, but other than that, what could go wrong?
Well, it is a murder mystery. The duo endure a luxurious yet still harrowing trip by tiny plane and boat to Nairobi, then head up to Happy Valley. This gorgeous location is populated by English expatriates behaving badly, complete with wild parties full of drink, drugs and wife-swapping, and the ensuing feuds and bad blood between all represented. Georgie, who tends to be a bit of an innocent, is shocked, especially when one of the community's leading lights make a play for her–even though she's on her honeymoon. She's also a bit bemused by the habit of her compatriots to discuss their African staff in front of them, as if a darker skin color denoted deafness. (Aside: I appreciated the author trying to be true to her time, no matter how offensive such things are)
Darcy and Georgie leave a wild house party early and are headed home in the dawn light when they find a car blocking a mountain road. Following vultures, they discover the body of one of the worst offenders. Although they are quite sure he wasn't killed by a lion, everyone else seems to want to close the case quickly under that assumption. They have to deal with incompetent government officials, hysterical former mistresses, and more. It soon becomes apparent that many people had motives for wanting him dead, and that the killer may be willing to kill again.
Love and Death Among the Cheetahs is a solid addition to the series. Like everyone else in college in the late 80s, I spent several years obsessed with Isak Dinesen and Beryl Markham, and it was fun to get glimpses of their real-life characters as background players to Georgie and Darcy's adventures. Georgie tries to act the sophisticate with very limited success, which is always amusing, but it's not as funny as some of the earlier books. Still, I found it very enjoyable, and a great summer read.