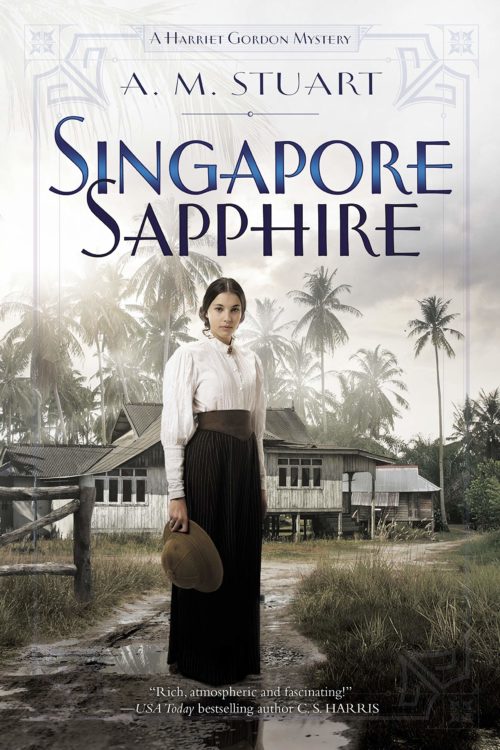 Singapore, 1910. Colonialism is at its height, and many Europeans have come to the East to make their fortunes. Harriet Gordon is fleeing past trauma–including the death of her husband and infant son, as well as a stint as a suffragette that included jail time and has resulted in a mistrust of the police in general. She's seeking refuge in Singapore with her brother, a reverend and a headmaster at a school for boys. She advertises her services (and her typewriter) as a personal secretary, and gets hired by Sir Oswald Newbold–an explorer, mine magnate and president of the exclusive Explorers and Geographers Club, who's writing his memoirs. But when she goes in for her second day of work, she discovers him dead, with a dagger of Oriental design sticking out of him! (Sorry, the dagger of Oriental design fits so well in this genre that I couldn't resist!) And the manuscript is missing.
Inspector Robert Curran is not your stereotypical Englishman. He too carries a past with him, and his current living situation involves a local woman as his live-in lover and companion. He's thoughtful and nuanced. And he recognizes a similar soul in Harriet, who keeps moving the investigation forward. All signs seem to point to Oswald's past in Burma, and the ruby mine he was involved with then, which was a situation right out of Heart of Darkness. When a second body is pulled from the canal, the two join forces to find out what's going on.
Singapore Sapphire is steeped in the steamy jungles and small town feeling that was Singapore in 1910. It exudes the tropics, and I loved the sense of place I got through it. It's also a fine mystery, with interesting characters and a complex plot. It's the first of a series about Harriet Gordon, and I'm looking forward to continuing the adventures of this remarkable woman. Highly recommended.