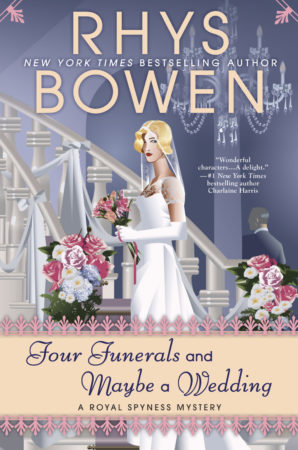 Even a cursory glance at the books I review will reveal that I do love a good mystery, but like any lover, I'm picky. I am especially careful of so-called "cozy" mysteries. Sometimes they're fun and witty, but all too often they are twee and downright gummy with trying to be cute and English or featuring (shudder) talking cats. However, one series that I unabashedly love is Rhys Bowen's Royal Spyness series. Set in 1930s England, the books feature Lady Georgiana Rannoch, 35th in line to the throne, in all her geeky glory. Georgie is funny and relatable, complaining about the tartan wallpaper in the loo of her family's ancestral Scottish castle, and offering an irreverent look at the lives of the nobility, while somehow consistently turning up bodies. She's flat broke, struggling to survive the Great Depression without bringing open shame on her royal relatives, and her attempts to earn money can be very funny. I've read several in the series, and enjoyed them immensely.
In Four Funerals and Maybe a Wedding, Georgiana is engaged at last to Lord Darcy, himself an irreverent dark-haired Irish (and Catholic!) lord who's featured in these books from the beginning and who is as broke as her ladyship. The two are attempting to house-hunt, finding only very depressing and tiny flats as options, when Georgie's godfather offers his own stately country house as an option. He's a mountain climber who has been out of country for a couple of years at this point, and in his postscript he wonders if all is well at Eynsleigh House.
Georgie heads down there alone and soon finds that all is far from well! Whether it's a butler who seems a little too Cockney for the job, a maid who leaves the gas on in Georgie's room, or gardeners who not only don't do their own work but also seem determined to keep her away from certain parts of the grounds, Georgie begins to suspect that something sinister is afoot. She's joined by her mother, the actress-turned-duchness who ran away when Georgie was a baby and with whom she has a somewhat uncertain relationship, her grandfather, a retired policeman who's very uncomfortable with the upper class,  and her maid Queenie, a strong-willed young woman who is not a great lady's maid but who is turning out to be a good cook. Many adventures ensue, but all ends well.
I highly recommend this series if you enjoy nice, relaxing murder mysteries—and no, that's not an oxymoron! With amusing and original characters who have a decidedly unsentimental outlook on life, the Royal Spyness books are a delight to read.