I like the opportunity to peek inside someone's head that reading a good memoir gives me. I like to learn from their past failures, but most of all I like to be encouraged by their successes. That's why the "project memoir" is one of my favorites within the genre.
I've recently read two project memoirs (my terminology) by dads who tried to reach their children in different ways.
In The Film Club, David Gilmour is faced with his teenage son's decision to drop out of high school. As a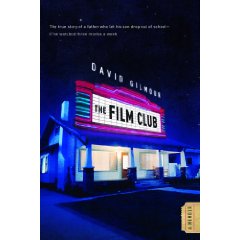 father, he was less concerned with him dropping out of high school than what he feared might result — his son dropping out of life. He agreed to let him drop out (and continue to support his room and board) with the stipulation that he had to watch one movie of his father's choosing each week.
Thus was born the father-son film club.
I'm not particularly a movie buff — I enjoy a good movie, but I don't know much about directors, genre, technique or the classics. But I do agree that movies can foster thoughts on life or open discussions about choices, and character, and this is what Gilmour was hoping. Sometimes he let the film speak for himself, and other times he made a pointed effort to use it to teach.
The relationship between father and son was interesting — sometimes as close as that of a unjaded youngster with his hero Dad, and other times distant and defensive. Watching a promising young teen living so close the edge was scary and sad, knowing that a string of bad choices could definitely have a negative affect on his future, whereas a few positive moves could give him options that he had probably given up on.
If you like movies — especially classics — you will enjoy The Film Club just as you enjoying sitting around shooting the breeze with other film buffs. There are a few movies that I'd like to see or to watch again. I also think parents of teens who are hard to reach or going through a bit of rebellion or insecurity about their future might appreciate this story of one parent's approach to reach his son.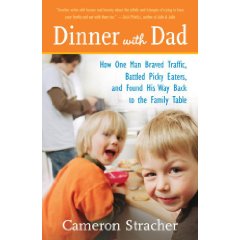 In Dinner with Dad: How One Man Braved Traffic, Battled Picky Eaters, and Found His Way Back to the Family Table, another dad wants to make more of an effort to be present in his children's lives while they are still young. Cameron Stracher realizes that his long commute from Connecticut to Manhattan, some business travel, and two careers (one teaching and one practicing law) were stealing moments from his children's lives.
So, he committed to being home for dinner five out of seven days each week, and also to take an active role in preparing the meals — being present for the family.
This was an interesting undertaking and not without serious choices — how would his decision to work less affect his job? How would his change in job status affect his finances, his marriage, and his self-image? Ultimately, how would everything affect his relationship with his children?
I wished that the book had included recipes, because I did enjoy hearing about the dinners that he prepared for his family.
Whether you are facing a long commute and a demanding job or simply the pull of other interests or concerns, this father's experience will make you reevaluate the way you spend your time parenting.
Managing Editor Jennifer Donovan is a contributing editor at 5 Minutes for Mom. She has been blogging at Snapshot for over two years.