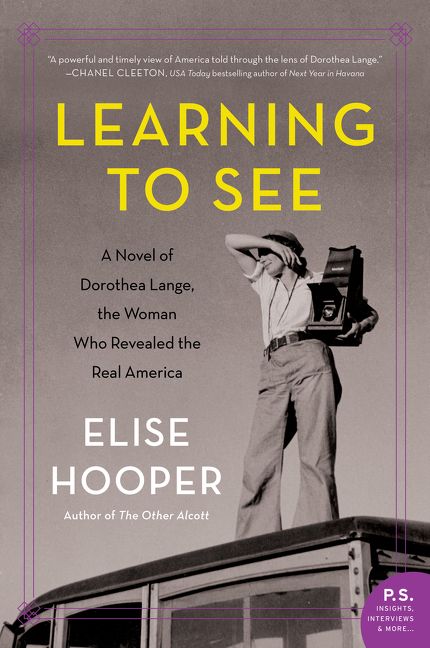 Learning to See is a fascinating new novel based on the life of Dorothea Lange, the female photographer who is best known for her searingly honest photographs that showed a nation the horrors and human toll of the Great Depression. Elise Hooper has brought to life not only the artist herself, but also her place, time and friends, showing us San Francisco after WWI, fellow photographers Ansel Adams and Imogen Cunningham, and a world in which economic collapse and war led America to be less than her best to her poorest and most vulnerable citizens.
Dorothea Lange moved to San Francisco from the east with a friend in 1918, determined to make a fresh start. She wore trousers to hide a right leg disfigured by a bout with polio, and started working as a portrait photographer, making friends with San Francisco's society women as she captured their stylized lives on film in dreamy stills. She fell in love with fellow-artist Maynard Dixon, a man known both for his colorful paintings of wide open Western vistas and for his womanizing. Unsurprisingly, their marriage was rocky but limped along for years, bolstered initially by their genuine affection for each other. It was Maynard and his trips into the wilderness that first introduced Dorothea to the realities of life faced by those without the advantages of race and class, and she began to photograph the lives of Native Americans. She was especially impacted by a visit to a boarding school for Native American children. She and Maynard had 2 sons.
A woman with a blazing passion for justice, Dorothea was not content to merely sit by as she saw unspooling before her a great tapestry of suffering humanity. Her successful business was none-the-less hard hit by the stock market crash that heralded the Great Depression, and she began to photograph the homeless people and bread lines she saw on the way to work. She also made the decision to board out her  boys, leaving them in the care of a family on a farm so that they would be guaranteed enough food and a healthy childhood, a decision that would later cause deep disruptions in their relationships with her.
When she met Paul Taylor, a university professor and labor economist, they began to work together to document the plight of migrant workers–he writing up reports and she providing photographs–for the Farm Security Administration, a part of the US Dept. of Agriculture. Soon she was invited to photograph the migrant workers, and she began to produce the hard-hitting photographs which brought her great fame, as she shone the spotlight on the hardships and misery of the extreme poor. Her photographs remain powerful to this day because although they show people at the extremities, they nonetheless convey a quiet dignity and humanity to their subjects.
With the outbreak of WWII and America's decision to intern its Japanese-American citizens in camps, Dorothea attempted to again record the realities, only to have her film confiscated. Her photos of the camps would not see the light of day for decades. She was the first woman to be awarded a Guggenheim Fellowship recognizing her talent, skill and perseverance.
Learning to See documents not only one woman's life and passions, but also shows well the challenges faced by women as they balanced career and family in a world that demanded their bear primary responsibility for their children. Lange's story is gripping, but Hooper has recreated a realistic portrait of an imperfect, inspiring woman.