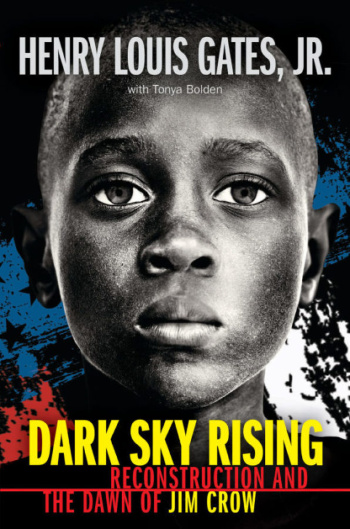 Teen readers and adults alike will have much to learn by reading Dark Sky Rising: Reconstruction and the Dawn of Jim Crow by Henry Louis Gates, Jr. and Tonya Bolden. This book details a history of survival and a shared spirit of determination in the face of innumerable obstacles, and it is a part of our country's history that is too little taught in our schools or acknowledged in our minds.
This book marks Professor Henry Louis Gates, Jr.'s first foray into writing for adolescent readers, and his brilliance shines here as in all of his work. He presents a narrative of our country's history from 1861 through 1915, filled with names, dates, and historical records, many of which I'm sad to report were unfamiliar to me. The emphasis here is on the experience of black people during and after the Civil War, and numerous connections to modern-day experiences and challenges are aptly made.
The authors work to include many quotes and images from the time period, giving context and faces to moments in our country's dark history. There is an accurate depiction of the complexities of issues and characters from this history here, so that more than just the typically simplistic retelling of the major figures of the Civil War are given. Readers will be given more insight into the systemic injustice that prevailed in the aftermath of the Civil War, a time in which conditions should have been made better for formerly enslaved people, but for whom degradation and oppression continued, or even got worse. The supposed ideals of our nation are placed under a spotlight for inspection and critique, and rightfully so.
As an adult, I was amazed at how much I learned from this YA text, and my 7th grade daughter will be reading it next, for it is an important and timely read for both of us and for all. Young readers will hopefully be encouraged to ask questions and seek even more context after taking it in.