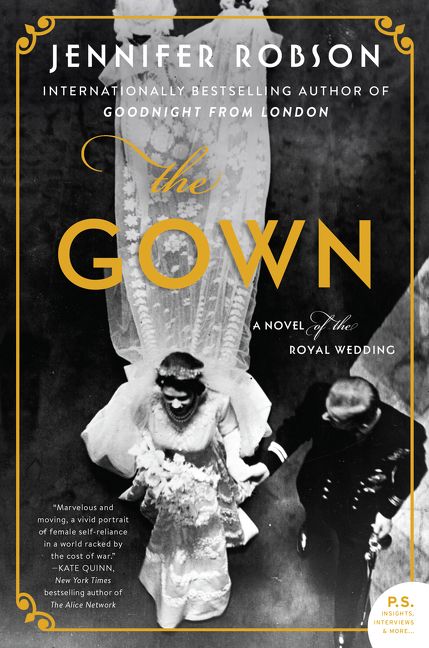 London, 1947. Ann Hughes works as an embroiderer in the famous London atelier of Hartnell, helping make gowns worn by the Queen and her daughters, Princesses Elizabeth and Margaret. There she meets and befriends Miriam Dassin, a young French Jew looking for a fresh start after barely surviving the war. Although of course World War II is over at this point, England is still staggering to recover. Strict rationing is enforced, and entertainments are few and far between for young women alone in the world who have to earn their living. So there is great national excitement when Princess Elizabeth becomes engaged to Lieutenant Philip Mountbatten, and even greater pride when the House of Hartnell is chosen to design and make the gown.
All are sworn to secrecy, and the pleasant day-lit room where the embroiders had previously worked has to have whitewash brushed over its windows to keep prying journalists away. Ann and Miriam take their responsibilities seriously. Meanwhile, each has met a man who is trying to gain her attention; Miriam's a serious journalist, and Ann's a wealthy attractive young man about town who seems too good to be true.
Toronto, 2016. Heather Mackenzie recently lost her beloved grandmother, Ann, who moved as a young widow to Canada when she was pregnant with Heather's mother. Heather was always close to her grandmother, who ran a knitting shop and whose life seemed to have pretty much begun when she arrived in Toronto. She's mystified when she finds a box with her name on it that contains gorgeous hand-stitched flowers, ornate in their accuracy and delicacy. She begins to research them, and finds that they match the flowers on the royal gown, but that makes no sense with what she knows of her grandmother. Determined to find out, Heather travels to London, where she will finally learn what secrets her beloved Nan never told her.
The Gown is getting a lot of hype, which means I typically respond with both excitement (can't wait to read it!) and skepticism (will it actually live up to its publicity?). So I will tell you that I loved this book! The characters are well drawn and sympathetic, and I loved the female friendship, support and camaraderie. On top of that is a gripping story. The book has it all–friendship and hope, betrayal and new beginnings. I highly recommend it!