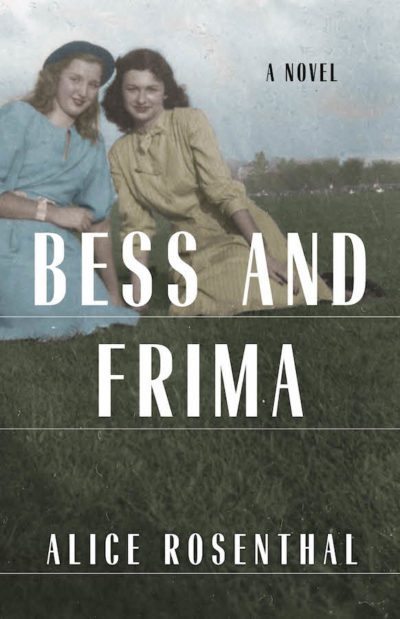 Ok, a show of hands–who's been watching season 2 of The Marvelous Mrs. Maisel? I have, and really enjoyed it. You know how several of the episodes take place at this Jewish summer retreat in the Catskills? I'm non-Jewish and from the West Coast, and I had never heard about camps like this, but Alice Rosenthal's new novel Bess and Frima starts with two girls from New York spending a summer in the Catskills, working at similar resorts and hoping to meet a nice young single Jewish doctor, in the years before America joined the second world war. Apparently they were very popular!
Frima is fair-haired and her family owns a simple farm that her mother has single-handedly converted into a small boarding house for families longing to escape New York City's searing summer heat. Her grandfather lives there year round, but Frima and her mother, the wise and kind Hannah Eisner, come for the summer. This summer, her mother has also hired an attractive young man named Jack, older brother to Frima's best friend Bess. Frima recognizes Jack's shortcomings to a degree, but she's also swept off her feet a bit by his charm and is easily wooed in spite of her mother's shortcomings.
Bess, tall and dark-haired, has always been unconventional and rebellious at heart. She has the option of spending her summer on the Eisner farm but balks at the thought of her older brother being constantly around. Instead, she opts for a resort called Alpine Song, where she meets Moe and Judith Ginsberg. Judith is a leader in teaching women's health and contraceptives, advice Bess needs when she meets the attractive gentle-souled Vinny, an Italian Catholic who is also a communist and labor leader.
Although Bess and Frima are both characters in their own rights, they are also representatives of their time and place. Author Alice Rosenthal takes time to go in depth on certain topics, of everything from the origins of Jewish resorts in the Catskills to the history of the labour union. She doesn't belabor her points, and the result is a book that has interesting characters and yet imparts quite a lot of historical information as well.
Bess and Frima deals with issues ranging from female friendships and how they are tested by age and marriage, to WW2 and how it changed New York, to changing societies and how they affect individuals, to marriage itself. If you want to learn more about this time period, it's a great way to do it.
Goodreads: