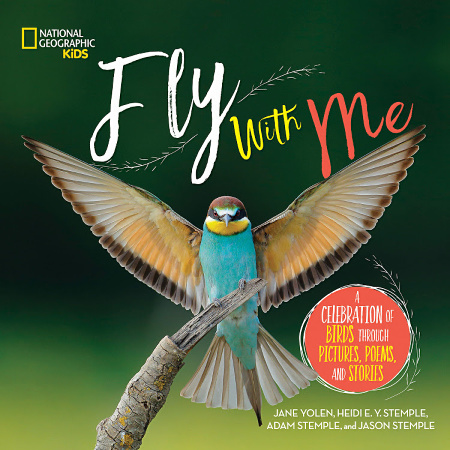 Two new collections of poetry have been published by National Geographic, and while the anthologies focus on different subjects, they most definitely share the qualities we've come to expect from NatGeo– incredible photography and top-notch selections.
Fly With Me: A Celebration of Birds through Pictures, Poems, and Stories by Jane Yolen, Heidi E. Y. Stemple, Adam Stemple, and Jason Stemple lives up to its name, as it is a genuine celebration of all things avian. Fact and fiction abide here, told through informative passages, whimsical stories, amazing photographs, evocative poetry, and notes of encouragement and advice to bird-watchers and bird-lovers of all ages.
It's impossible to address all the various offerings in this almost-200 page collection, and each truly wows in its own right. One large section addresses the official state birds of the United States, with each bird getting its own spotlighted page filled with unique facts and, of course, eye-popping photos. For a bird-lover like myself, this book provides something to gawk at on each and every page turn.
In a later section, seven folk and fairy tales from around the world are presented along with detailed, realistic illustrations that add some some playful fun to the mix. As the book closes, the authors encourage readers to explore the world of birds on their own, sharing in their fervent appreciation for these amazing creatures. The concept of 'citizen scientist' is introduced, along with three notable figures from world history, and even young readers are informed of ways that they, too, can participate in this type of activity, such as with The Audubon Christmas Bird Count, The Great Backyard Bird Count, and Nest Watch. Advice on providing various bird-friendly habitats is provided along with information about types of feed and feeders, and the importance of providing water sources, as well. This book is chock-full of tidbits that will turn any reader into a bird-lover.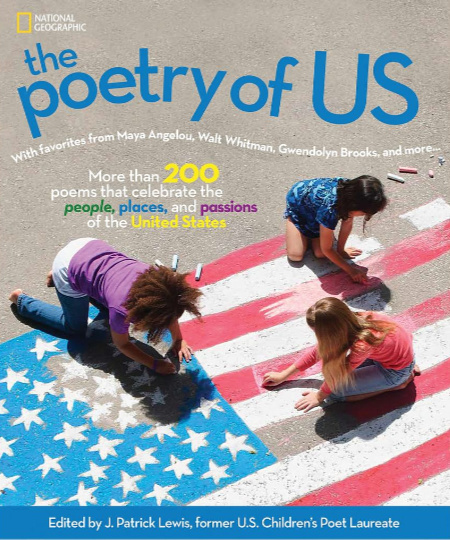 In The Poetry of US: More than 200 poems that celebrate the people, places, and passions of the United States, editor J. Patrick Lewis, former U.S. Children's Poet Laureate, has compiled a wide variety of poems that hit on many aspects of the American experience. The book is organized into sections based on geographic location, such as New England, Mid-Atlantic, and Pacific Coast. In true inclusion fashion, Lewis hasn't forgotten about the U.S. Territories, with poems included that reference American Samoa, Guam, Northern Mariana Islands, Puerto Rico, and U.S. Virgin Islands.
And what a collection this is, seriously. I am blown away by every single page. Lewis has included several of his own poems, along with those of beloved poets and authors such as Gwendolyn Brooks, Maya Angelou, Walt Whitman, Linda Sue Park, Robert Frost, and Langston Hughes, among many, many others. There is a diversity among the perspectives and experiences presented here that is representative of the U.S. we live in, and this includes not shying away from dark aspects of our country's identity. I randomly opened to a page and was presented with two poems facing each other on consecutive pages- one for Emmett Till and another for Trayvon Martin, both beautiful and poignant, deeply honest and painful.
The American identity, geography, nature, and more are explored in this truly stunning collection that would be an excellent classroom resource as well as a gorgeous and meaningful addition to any family home library.