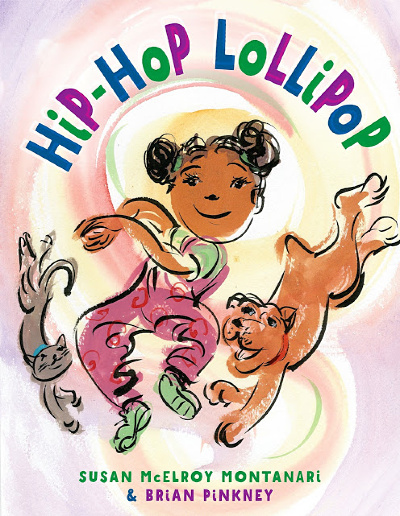 When the music hits Lollipop, she feels it all over and she can't help but move. Susan McElroy Montanari's new picture book Hip-Hop Lollipop features the adorable Lollipop dancing from page to page, care of Brian Pinkney's gorgeous signature illustrations.
After her parents tell her to start getting ready for bed, Lollipop complies but does it her own way, moving through her nighttime rituals all to the soundtrack of her hip-hop music. She bounces and glides as she brushes her teeth and picks out pajamas, and even though her older sister is more of a techno music fan, they dance together, each in their own styles. She may slow down a bit as she gets sleepier, but she still finds the energy to dance with her cat and dog before heading to bed, where she only starts to dance once again. . . but this time, in her dreams!
Susan McElroy Montanari has put together a creative and clever rhyming text in this book, with some words set in bolder text for emphasis. The language is complex, with some terms that may be new to young readers, such as exultation, gyration, and jubilation. The context for the words will help independent readers work them out, and caregivers can talk with children about what they think the meanings could be. Brian Pinkney's brightly colored illustrations are as full of life as ever, with a fluidity and curvature to them that invoke movement and joy. His style is instantly recognizable, and this latest book joins his incredible list of other beautifully illustrated books.
This picture book is well-suited for a lively read-aloud at both home and school, with a main character whose spirit is infectious and totally relatable to lively children!