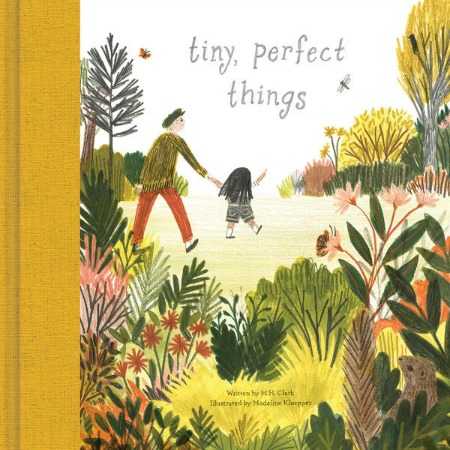 In the opening pages of Tiny, Perfect Things, written by M.H. Clark and illustrated by Madeline Kloepper, an older gentleman and a young child hold hands and walk along a sidewalk, surrounded by lush grass and flowers on either side.
"Today, we keep our eyes open for tiny, perfect things."
In just that short declaration, a world of opportunities exists. Whether it's a yellow leaf lying alone in the middle of a path or a bright, red feather in the cap of a man walking by, those "tiny, perfect things" are around us all the time, and we'd see them if we only paid attention. In this book, both the man and the girl delight in pointing out what they spot to each other, each taking joy in what many would see as simply everyday objects.
There is so much to enjoy here. Kloepper's illustrations, which appear to me to be color pencil drawings, bring fine and beautiful detail to the natural world. The quiet and contemplative practice of walking around your neighborhood with the purpose of observing is a wonderful thing to share and encourage, and the kind and obviously loving relationship between the two characters, seemingly grandfather and granddaughter, is lovely to see. The final pages fold out to make a four-page spread of a neighborhood street complete with dozens of additional tiny, perfect things for young readers to discover on their own.
I'm always a fan of children's literature that celebrates a love of the outdoors, and this one does just that with an emphasis on observation and appreciation. As with other recent releases from publisher Compendium, I'm impressed with the quality of this hardcover book, with its textured front cover and classic-looking fabric spine. This is a beautiful addition to a child's personal library.