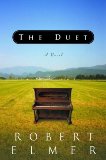 My grandfather was a farmer for many years. My dad grew up on the farm. Our church family includes several farming families. Needless to say, I've grown fond of and understand farmers. Reading The Duet by Robert Elmer, I couldn't help but compare Gerrit Appeldoorn to the farmers I know. Gerrit, a 60-year old dairy farmer in the small town of Van Dalen, reminds me quite a bit of my grandfather…a man of few words but great feeling, kind-hearted, loving and loyal.
Gerrit has been a widower for years. His son has taken over the family farm, but Gerrit can't stay away. Farming is the life he's always known, and it's the life he loves. In the tradition of his family, Gerrit is a devout Reformed Presbyterian. His life suits him just fine, until he meets Joan Horton.
Joan has come from New York for a year to teach piano and spend time with her daughter's family. Gerrit's granddaughter, Mallory, is one of Joan's students. When Joan drives out to the farm to meet Mallory, she discovers an exquisite heirloom piano and the gruff Gerrit.
Considering the country boy/city girl plot, this book could have taken the Green Acres route. Thankfully, Elmer weaves a beautiful story of a growing friendship between two lonely, very different people. Joan and Gerrit fumble along in their newfound relationship. Each wonders if a true-blue Reformed Dutchman and a artsy, charismatic New York gal really belong together. Their heated arguments about faith caused me to think about what I believe and why I believe it.
Aside from Gerrit's relationship with Joan, Elmer paints a precious relationship between Gerrit and Mallory. It didn't take me long to develop a real soft spot in my heart for Gerrit. So much so, that I was quick to grab the sequel, The Recital.
I'll be reviewing that one soon.
Melissa has been captivated by books for as long as she can remember. She resides in Virginia and at Breath of Life.