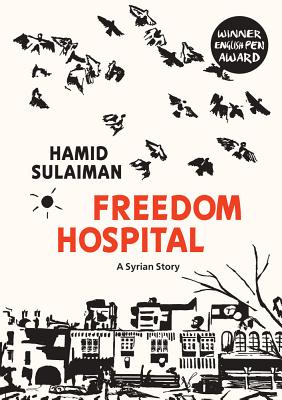 Syrian refugee artist Hamid Sulaiman survived and escaped his country's devastating civil war, and wanted to tell stories of things he saw and experienced. To simplify, he combined several stories and made some composite characters, and created a graphic novel that tells a true story as fiction (which is why I tagged it as both).
Freedom Hospital is set in the fictional town of Houria, in northern Syria. The novel opens with a journalist named Sophie, who was born in Syria but grew up in France, smuggling herself back into Syria to cover the revolution. She goes in company with Yasmine, a pharmacy student who's been accepted to a PhD program in the US but who is staying to help her country. She has fulfilled her grandfather's dream of opening a hospital, and is running an underground clinic out of her family home where they care for those injured fighting against the regime–people who risk certain death if they go to a traditional hospital. The story follows Yasmine and Sophie as well as various characters who are involved at the hospital, such as a former member of the military who was shot when he refused to fire on protestors, or a man serving others as a doctor while his family waits for him in the relative safety of a Turkish refugee camp.
The story opens in the spring 2012, when 40,000 people have already died in the war. The town of Houria is controlled by Assad's forces, but various groups are fighting them, with varying methods. Yasmine and her group see things in black and white; it's never okay to kill protestors, the sick and wounded should be treated regardless of their personal views, and human rights should be upheld. In a time of civil war, such views can be dangerous, and not all of the residents of the hospital agree, although there is mutual respect. Sulaiman isn't a sentimentalist, and he presents fully-realized characters with flaws as well as strengths. His artwork has strong lines and almost a photo-negative feeling that adds to the depth of the reading experience.
Freedom Hospital is a moving story. The graphic novel aspect of it allows some distance from what is a difficult story to read, yet the narrative is not without hope. We see people face hardships and terror with courage, ingenuity, and creativity. I highly recommend this book! Not only is it a way to learn more about the situation there on the ground, but in learning more about others, we ultimately learn more about ourselves.