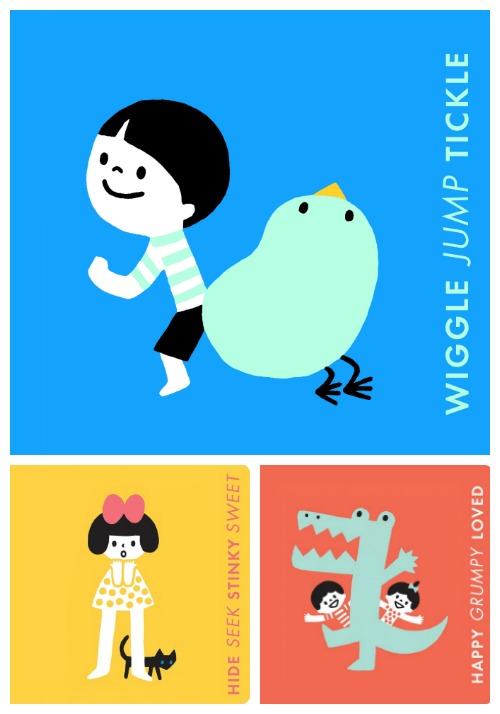 Ruth Austin and illustrator Kanae Sato have come together to create a trio of new board books that explore actions, opposites, and emotions through simple text and brightly colored illustrations perfect for babies and young toddlers.
Wiggle Jump Tickle: A Little Book of Actions sees a little child approach a large egg, and through a series of physical movements, he ends up with a new friend who is happy to dance, wiggle, and leap with him. The turquoise, blue, black, and white color theme sticks with the whole book. Each page's illustration is just the right amount of active and silly to make a little one laugh. Hide Seek Stinky Sweet: A Little Book of Opposites goes with a yellow, pink, black, and white palette. It shows a young girl interacting with a kitten throughout a series of activities that highlight the titular opposites, along with other basic and more complex ones, as well. Happy Grumpy Loved: A Little Book of Feelings follows the same pattern as the other books, this time in a turquoise, pink, black, and white color scheme and focused on a variety of emotions. Some are likely to be familiar to very young children, such as happy, sad, and angry, but others are just as important and may be new concepts, such as brave, embarrassed, pleased, and jealous.
Each of these board books offer caregivers an opportunity to introduce and expand on concepts that are appropriate for babies and toddlers. The physical books themselves are truly adorable and well-constructed for their intended audiences. Their textured covers appear more sophisticated than many board books, and the thick pages are sturdy enough for the inevitable rough hands and teething gums that young readers love to use. This series would make a delightful gift to a new or expecting parent.