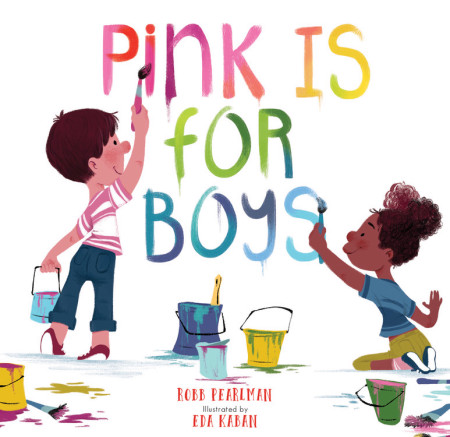 Very young children seem to love all colors, the brighter the better. At some point, they learn our culture's associations of gender and color, which is a serious shame, in my opinion. I could go on a long tirade about how frustrated this practice makes me, but instead, Robb Pearlman's new picture book Pink is for Boys gives me the opportunity to simply focus on the positive ways in which we can show children that colors are simply colors, attractive and delightful all on their own, ready to be loved by anyone, regardless of their gender identity.
Pink may be in the title, but it is just one of many colors that is presented here. Each color gets put in the spotlight with one special way it is seen in our lives. As the mom of a ten-year-old boy who has long loved the color pink and adores wearing his own pink plaid bow tie, I was thrilled to see that fancy party clothes were the example for the color pink! Other colors show boys and girls engaging together in activities that may often be thought of as primarily for one gender, such as sports uniforms for blue or yellow-golden crowns, while other colors are shown in the context of nature, such as the green grass on which boys and girls both love to run.
Eda Kaban's illustrations are whimsical and full of joyful life, featuring children of all shades, sizes, genders, and physical abilities. All of the children are actively engaged in silly, fun, and imaginative play, which is as refreshing to see as the natural diversity that is present. The messages here are clear– gender has nothing to do with the colors you like or the activities you enjoy– and the tone is light and full of happiness, providing acceptance and celebrating the choices of all. This picture book is a must for preschool and early elementary school classrooms, school and public libraries, and group storytimes in these settings.