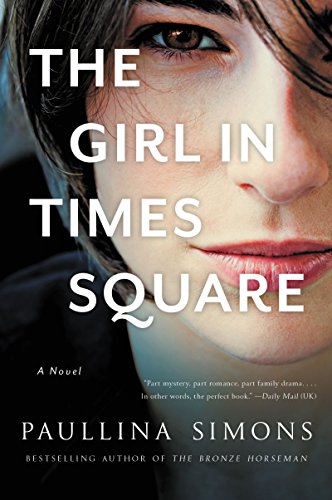 The genre of character driven suspense, complete with twists and turns, has been quite popular since Gone Girl made a huge splash. The Girl in Times Square by Paullina Simons is a worthy addition to the genre. It did take me a few chapters to get into the novel, because the first couple alternated between two characters, neither of whom I knew or liked! I'm not sure when my interest was hooked, but once it was, this novel was full of interesting discoveries and twists and turns.
One reason I had a hard time with the beginning, is that it was a big downer. Lily's boyfriend was breaking up with her. She was so poor, as a part-time student and part-time waitress, that she counted every nickel, including the ones she had to spend on the subway. Her roommate has gone off, and she's not sure where she is. The narrator of the other chapter is a bitter woman angry about the man who brings her mangoes. It turns out that the woman is Lily's mother. I was not as engaged by her story as Lily's, but it's there for a reason, and her story enhances the reader's understanding of Lily.
This is the story of the disappearance of a girl, trying to get to the bottom of what happened and why, but it's mostly Lily's story, living in the midst of crisis — this one and others which she has to deal with during these months. Spencer O'Malley is the detective assigned to her case, and he also begins to play an important, if reluctant, role in Lily's life.The book description doesn't give away the turns the story takes, and I am glad. I never like to do that, and as always, your enjoyment will be enhanced if you avoid them. I was never sure how — or if — these plot twists were going to resolve or how they added to the story as a whole.
Nothing was necessarily shockingly earth-shattering, but things — real believable things — kept happening to these characters, especially the main character Lily Quinn. In one way the sheer amount of stuff being dumped on her seems unbelievable, but it's not, I suppose. Anyone who has lived knows that life sometimes gives you much more than you bargained for, good and bad.
If you prefer fast-paced action, this might not be the book for you. There is definitely suspense and a mystery, but it definitely has that character-driven feel to it, which is exactly what I enjoy.