Over the past few years, I have reviewed a few of Deborah Crombie's police procedurals, following the lives of married Detective Inspectors Gemma James and Duncan Kincaid. (Here are my reviews of To Dwell in Darkness and Garden of Lamentations and here's a review I didn't write, about a book I've also read, No Mark Upon Her) Each time, I have commented on how intriguing I found their back stories, going on through the series in the background of whichever cases are currently consuming their working hours, which provide the framework for each new book in the series. But I wanted to know more about them, and while each book refers to the previous one, it wasn't giving me enough background. This Christmas, my family and I traveled the 1200 miles to the grandparents, to surprise my mother-in-law for Christmas, and I managed to get through 3 of the James/Kincaid books! Happiness. Of course I'm left wanting even more, but at least I now know some of the backstory. And so I am going to share it with you, because you care. (I know you do)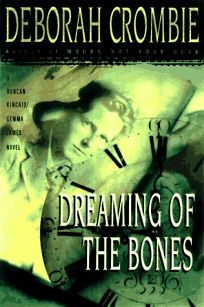 Who is Hazel? Hazel is Gemma's friend and erstwhile landlady, before she and Duncan moved in together. Gemma and her toddler son Toby rent a garage flat, and she and Hazel are close friends, as Toby is inseparable from Hazel's daughter Holly. When Gemma and Duncan move in together in And Justice There Was None, Gemma's first thought is how to break to news to Hazel. She is also the one who brings beef stroganoff in To Dwell In Darkness.
Where does Kit come from? Kit is Duncan's son from his first marriage, but he didn't know his wife was pregnant when they separated and she never told him. Duncan meets Kit (then 11) for the first time in Dreaming of the Bones, when his ex-wife Victoria calls him in to investigate a supposed suicide by an author 5 years earlier. Victoria is now writing a biography about her. Vic has remarried, but it is soon obvious that Kit is actually Duncan's son–he's the spitting image of his father. I won't tell you about how he comes to be living with Duncan and Gemma, but it's really good.

Why so many animals? This is partly answered in And Justice There Was None, when the duo move in together. Kit already has Tess, the dog he found in the Tesco parking lot when he ran away from his grandparents in Dreaming of the Bones. Duncan has a cat. And in this one, Gemma acquires a spaniel while she is investigating a vet's office.
Where does the mixed-race foster/adopted child come from? I don't know yet, but for the moment I need to get back to the stack of books I'm supposed to be reviewing! But you can find out for yourself. Crombie's series are readily available, and I think they're a cut above a lot of novels being published today–with relatable, likable characters and crisp, gripping narratives that deal with real issues in our world today without losing the charm of being books you can relax over.
I will give you just the briefest summation. In Dreaming of the Bones, Kincaid reconnects with his ex, who walked out on him 12 years earlier. Now she's an English professor writing a biography of a poet who died 5 years earlier, but she's not happy about the death, which was ruled a suicide. Action moves back and forth a bit between the 60s, when the poet was a student at Cambridge, and present day. I really liked this one! (published in 1997; it's book 5 in the series)
In A Finer End, Kincaid and James don't appear till relatively late in the book. This one's a bit different. It's set in Glastonbury, where a seemingly normal man begins receiving messages from an 11th-century monk. I expected this to get all explained away, but it actually turns out to be real. Still, the book keeps its feet on firm ground mostly, and I still enjoyed it. (This is book 7; published in 2001)
And Justice There is None might have been my favorite of the 3. It begins in Portobello Road in the 60s, when West Indian families began moving in next to Polish and German immigrants and racial tensions ran high. Now Gemma is in charge of that particular bit of London, and the crime that's been committed seems to have its roots in the decades earlier. I liked how this one really kept me guessing, and how it turned out I was right but not for the reasons I thought. (book 8; 2002)
Have you read this series? Let me know! We can discuss our favorite books in comments!