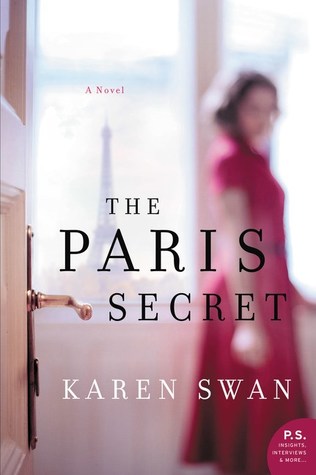 The discovery was amazing–a forgotten apartment in Paris, dust so thick that breathing was difficult, and every room filled with stacks of pictures by artists such as Renoir, Matisse, and more. Flora Sykes, a high-end art dealer, has been called in by the very rich and famous Vermeil family to document it all. No one in the family even knew of the apartment's existence. It had sat empty for 70 years–since the end of WWII in fact. But now someone has broken into the apartment, and instead of looting it, sent a letter to the family. Their solicitor turns out to have known about it, and produces a codicil which demanded the apartment be kept secret until the deaths of the last generation to live there, and Magda Vermeil is still alive at 93 and furious about the whole thing.
Flora begins to catalogue the find. She has to prove provenance, and follow the paper trail of ownership, but soon scents a scandal, and the possible reason for the apartment's being kept hidden all these years. Meanwhile she's staying with friends in Paris, where she keeps bumping into the youngest generation of the Vermeil family–a brother/sister duo famous for being boorish, loud, spoiled, and completely out of control. Yet there's an undeniable attraction to Xavier, he of the black diamonds for eyes and crumpled linen shirts for fashion. Flora won't be stopped until she determines the truth behind the secret apartment, whether it ruins or saves the family before her.
And she (and we, the readers) are in for an exciting ride! You will think you see what's coming, but then there will be another twist and you'll be wrong. (Except for the romance part. You are right about that. Sorry for the spoiler)
Author Karen Swan, according to her bio, began her career in fashion journalism, and it shows. The main characters swan about (see what I did there?) in well-described designer clothing. I didn't mind though. It fit the upper crust, magazine quality life of the characters. The action moves between all the European cities where you wish you were living your best life…London, Paris, Vienna, Provence.
I really enjoyed the main plot line of The Paris Secret, and Flora is a smart and determined protagonist. I could have done without the romance–the smoldering glances, the "we don't even know each other but the air is crackling between us", the "he's a playboy and all wrong for me" cliches. I rolled my eyes and skimmed. However, lots of women like that sort of thing and you might enjoy it. If you don't, don't be afraid of this book. There's a lot more to it. Plus it's even semi-based on a true story! I know! I'm about to loan my copy to a friend. Highly enjoyable overall.