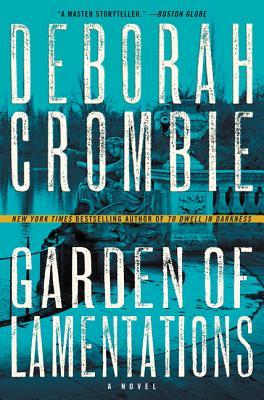 In a London private garden, accessible only by those whose homes ring the quiet space, a young woman who worked as a nanny in one of the houses is found on a warm May morning, laid out like a princess, but strangled to death. Suspicion must rest on one of the occupants, especially when Detective Gemma James discovers that a few months earlier, a child in another of the houses died. Gemma has a personal connection to the case: a good friend has called her in, and her child dances at the same studio with the boy nannied by the murdered woman.
Meanwhile Gemma's husband, Duncan Kincaid, is finding himself pulled backwards into cases supposedly already solved. His old boss, Dennis Childs, wants to meet him in secret, and refers to corruption at the heart of the Metropolitan Police force. Dennis is attacked and left for dead on the way home, but fortunately is found by some passing teens shortly after the attack and transferred to hospital. What could he have been referring to? Duncan begins to investigate, but the problem of looking for corruption is knowing whom you can trust. As he discovers connections between a trail of bodies, he has to face the danger he may be putting himself, his family and his colleagues into.
Crombie does a good job of creating an entire world, with characters that play bigger roles in certain books and move into the background in others. For example, Kincaid's colleagues Doug and Melody both have major story lines, especially Melody, whose boyfriend is touring Europe with his up-and-coming band (including a young and attractive woman), and whose relationship with her parents is strained.
Garden of Lamentations is the 3rd book I have read in the series following the lives of married police detectives Gemma James and Duncan Kincaid, and I love them and want to read more. Each book contains two major cases that the detectives are busy solving, but in the background is their relationship, their family, their friends. I want to know the story behind Charlotte, their adopted daughter who has suffered so much in her young life–the books I've read allude to it, but don't give quite enough of a summary. The current story is more than enough to keep you turning page after page compulsorily, long after a sensible adult person would have gone to bed. In my review of the last  book in the series, To Dwell in Darkness (linked to my review), I also mention this lack of backstory. I have decided it is a brilliant marketing technique. I'm pretty sure to go to Powells over Thanksgiving Break, and I'm going to pick up some copies of earlier works.
Overall, you can read these books just fine without having read the previous. However, To Dwell in Darkness and Garden of Lamentations are linked, with Kincaid following out the story begun in the earlier work. I recommend reading them together. Right now, the first is available for $6.99 at Amazon, and it offers a delightful evening away from holiday stress, maybe while your family cleans up Thanksgiving dinner? It could happen. Then you can get Garden of Lamentations for Christmas.