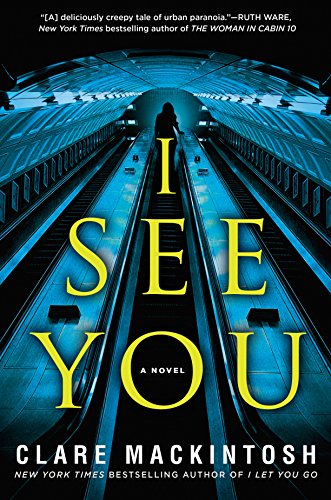 I reviewed Clare Mackintosh's first novel I Let You Go last year, and I enjoyed it, so I was definitely ready to pick up this book. When I looked at my review, I was surprised that I said that it "reads more like a detective novel than I was expecting" (in a psychological suspense novel), because that is exactly what I thought about I See You. I suppose since the author spent 12 years on the police force, that makes sense.
What I like about detective novels is that they are more straight forward and give me that interesting and unknown-to-me setting (of a police force). What I don't always like is light character development. Well, that is definitely not true here. The characters were interesting and well written.
Zoe Walker is a single mom to two young adult children who still live with her. Since her divorce, money has been tight. She doesn't love her job, but it pays the bills. Her son had been in some trouble, but he's got a good job at a cafe, thanks to their next door neighbor.
One day Zoe notices a photo of herself in the classifieds section of the newspaper in an ad for a singles site. She didn't put it there, and her partner doesn't even think it's her, but she's worried. When crimes against women start to increase — especially on the commuter lines — she begins to get worried.
When Zoe recognizes the photo of a crime victim in the ads, she shares her concerns with the police.
I don't believe in giving too many details, especially in mystery leaning towards psychological thriller. This one does have several twists and turns. Everyone is a suspect, and though the end sort of came out of the blue, it did make sense, and it did surprise me.
I'll keep following this author for sure.