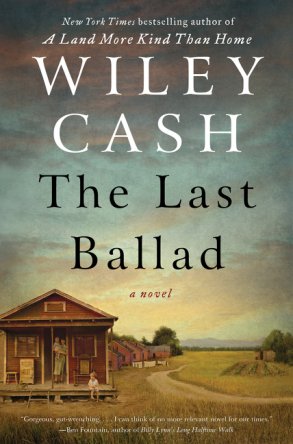 The Last Ballad is a story of poverty, and unionization, and racism. It's a story of North Carolina in the late 20s, and attitudes towards poor people, whiskey, "colored" people, and communists. But above all, it's the story of men and women dealing with the issues of their times, and making choices that history regards favorably or as contemptible.
Ella May Wiggins was born poor in the mountains of Tennessee, and by the time she was 17 she was alone in the world. We meet her 10 years on with 4 children, and the memory of the one she lost. She works 12 hours a night 6 days a week for a total of $9 a week, and her children are barefoot and hungry. Ella herself lives in Stumptown where she's the only white woman in a settlement of blacks.
Unionization is coming to the south, and the mill owners are fighting it with everything they've got. But Ella is just curious enough, just brave enough, and just poor and oppressed enough to risk going to a meeting to see what it's all about. As she tells her story to one of the organizers, she ends up being put up on stage to tell of how the owner won't let her work days so she can be with her sick baby, and how if she dares miss a shift to care for her, she risks losing her job. Ella sings a song she's written to her children, a haunting ballad about being gone for long hours and still not having enough money to buy them necessities. Before she knows it, she has become one of the leaders.
Ella May is the heart of the story, but the novel follows other's stories as well. There's Hampton, a black Pullman porter whose family fled Mississippi when he was 6. There's Brother, whose fondness for alcohol leads to devastating consequences for Ella's family. There's Claire, who, on a college trip to Washington DC, meets a very Southern politician and yet is confronted by the reality faced by the strikers. There's Claire's mother, Katherine, wife of a mill owner who cares for his workers yet at the same time can be cowardly, unless Katherine takes things into her own hands. And there's Lilly, Ella's oldest daughter, writing from modern times but looking back at her mother's life. There are shocking scenes of mill owners evicting the poor from their hovels as punishment for striking, or of poor white strikers rejecting the addition of poor black strikers in their midst.
The Last Ballad is a visceral rendering of a specific time and place and brings history to life. It's a sobering book, but it pulls you in. Far from being a depressing story, instead it's a paean to the grit and determination of the human spirit, and of the inherent dignity of every human spirit. Really well-written. Highly recommended.