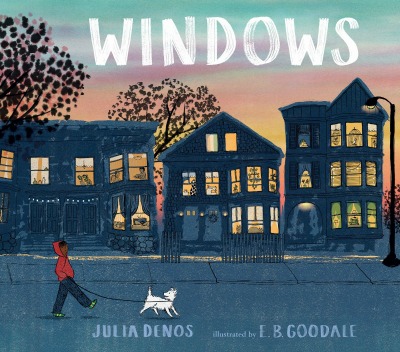 When I was in college, I walked to a part-time job every afternoon. Strolling home through a residential neighborhood in the early evening, my eyes were consistently drawn to the lit up windows of the houses I passed. Knowing I was returning to a small dorm room, my gaze was filled with longing as I saw families sitting together at dinner tables or heard the sounds of parents and children engaged in evening activities. I was immediately returned to that state of wonder when I first read the new picture book Windows written by Julia Denos and illustrated by E.B. Goodale, for the same spirit of appreciation for the joys of home life is apparent in this gorgeous book.
"A neighborhood of paper lanterns" is how the lit-up windows are described, as a young boy walks in the early dusk hour with his dog through a neighborhood of houses and multi-family dwellings. This poetic tone is carried through the whole picture book with more descriptions that are both beautiful and relatable to children.
I absolutely adore the subtle nod to childhood as I used to know it, with this young boy walking his dog independently and even passing two houses from whose windows a string runs, connected to two cans held by children on either side. "Between two windows, there could be a phone, used for good ideas." There is also a natural diversity apparent in this neighborhood, with people of varying skin tones throughout the illustrations, seen for snippets through illuminated windows or out and about in the community.
And perhaps the boy in his red sweatshirt with its ever-so-slightly curved hood brings to mind another character known for making his way through his own neighborhood, in an important and just about perfect piece of classic children's literature. Like the red snowsuit-clad Peter of The Snowy Day by Ezra Jack Keats, this character finds wonder and joy in his community, and young readers will surely share it with him. I wouldn't be surprised to find this new picture book on honor lists in coming months, and I highly recommend it.