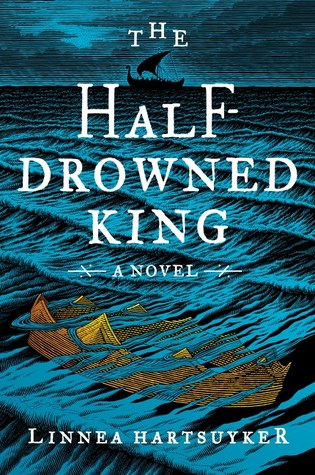 The Half-Drowned King is the first in a new trilogy by Linnea Hartsuyker, and is a fictionalized account of the historical epic saga of Harald Fairhair from Snorri Sturluson's Heimskringla. And it's fantastic, actually. Hartsuyker has taken the bare bones of history and fleshed them out into real people, loving and living, fighting for space to carve out their own existence, and she's done an excellent job. I so enjoyed this first book, and I'm anxiously awaiting the next 2. (She says to avoid wikipedia if you don't want spoilers, so I pass that on)
Ragnvald is returning from his first time raiding under Solvi, the captain. Things have gone well for the young man, so he is unprepared for Solvi's treachery, leaving him to drown on the open sea. Ragnvald has a vision of sinking down to the sea goddess Ran's halls, where a golden wolf comes and delivers him. He is rescued by a passing fisherman, and makes his way home. Meanwhile, the raiding men have returned, and Ragnvild's sister Svanhild has learned of his supposed death. She has also learned that the killing was planned and plotted between her stepfather Olaf and Solvi's father.
Ragnvald and Svanhild are grandchildren of a local king, but their father was nicknamed "the Noisy" because of his habit of boasting, and he was killed by a raider. They've been raised on stories, and Svanhild in particular has internalized the songs of brave Viking women fighting alongside their men, shield-maidens and strong queens. She dreams of being like them, and is ill-suited to a marriage planned by her stepfather with a friend of his, a man who has buried several wives already. When she meets Solvi and falls for him before realizing it was he who tried to kill her brother, she will have to choose between several uninviting paths, each of which will take courage and insight–qualities she possesses in abundance.
Meanwhile, Ragnvald is choosing whether or not to follow Harald. Does he represent the golden wolf of his vision? 9th-century Norway was a country divided between sea kings (who ruled small segments of the coast and raided passing ships) and kings who controlled several sections of farmland, like Ragnvald's grandfather and, for a short time, his father. Harald has the dream of uniting them, and each of the smaller "kings" must decide whether to side with him or  fight him. Ragnvald joins him, but it will mean many smaller choices along the way, as he decides who to align himself with.
I already mentioned how much I loved this book. It's a fascinating read, and thoroughly enjoyable. I'm giving it my highest recommendation–5 stars, which is something I rarely do. And I absolutely cannot wait for the sequel.