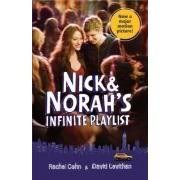 Nick and Norah's Infinite Playlist by Rachel Cohn and David Levithan is set in the late night music/club scene in New York. But that's not what it's about. Nick and Norah's Infinite Playlist is about what it feels like to meet that special someone, and be interested right away, while having doubts, and baggage, and difficulties that get in the way. All compressed into a zany time period of one very long night. It reminded me a little bit of the movie Dazed and Confused, and when I first read it I thought: "I can totally see this working as a movie."
Through the alternating chapters, we explore this falling in love from both sides. We see each person's doubts, and how the other is perceiving him or her at the same time. It's a bit confusing sometimes – I had to stop and think "who's talking now?", because both narratives are written in the first person. But mostly it works.
I wouldn't recommend this title for younger kids, or for people who are easily offended by profanity or sex. The "f" word features very prominently, and there are some pretty overt (though not not unduly graphic) sexual references. And yet, if you can get past that, the two main characters are actually quite straight-laced. They don't drink, they don't do drugs, and they both want stable, monogamous relationships. I think that the language is the authors' way of keeping Nick and Norah, especially Nick, from being too good to be true.
There's poetry in some of the text, too. And not just when Nick or Norah is thinking about song lyrics. Here is an early throwaway line describing Nick shifting gears from performer to person taking down band equipment: "I go from chords to cords, amped to amps." And here's Norah, musing on her own upbringing:
My parents have also done me the misfortune of being happily married for a quarter century, which no doubt dooms my own prospects of ever experiencing true love. Gold is not struck twice.
I love that. "Gold is not struck twice." There's also David's description of moving through the crowd at a club, holding Norah's hand:
The crowd is pressing in on us and the bassline is revealing everything and we are two people who are part of a lot more people, and at the same time we're our own part. There isn't loneliness, only this intense twoliness.
I love that, too. "Twoliness." The language aside, what makes this book special is the way that the authors are able to capture those feelings and insecurities that teenagers have when they first fall for each other, especially the feeling of euphoria. I could cite dozens of examples. But I'll limit myself to three:
Nick stands up and offers me his hand. I have no idea what he wants, but what the hell, I take his hand anyway, and he pulls me up on my feet, then presses against me for a slow dance and it's like we're in a dream where he's Christopher Plummer and I'm Julie Andrews and we're dancing on the marble floor of an Austrian terrace garden. (Norah, page 55)

If Caroline was here, she'd give me her Patience, Grasshopper speech. But she's not, and I am left to wonder on my own: How does this work, the getting to know a new guy without revealing too much desperation for his undivided attention? (Norah, page 68)

No–when the rain falls you just let it fall and you grin like a madman and you dance with it, because if you can make yourself happy in the rain then you're doing pretty alright in life. (Nick, page 156)
While most aren't as fully fleshed out as Nick and Norah, several of the other characters are intriguing. Tris, Nick's painfully recent ex-girlfriend, turns out to be more multi-dimensional than she seems at first. Norah's dad is a high-powered record executive, but also reveals himself to be a caring father and loving husband. There's also a cross-dressing Playboy bunny/bouncer and a gay playboy band member who each offer words of wisdom to Nick. One thing that I really like about this book is the way that the sexuality of the gay and cross-dressing characters is treated completely matter-of-factly by both Nick and Norah.
So, here's what I have to say about Nick and Norah's Infinite Playlist. It doesn't matter if you're not into music, or you aren't interested in the New York club scene. It doesn't matter if you're male or female, gay or straight. If you've ever met someone and been interested in them from the first glance, or if you've ever wondered what it would be like to meet someone and click right away, you should read this book. It's a perfect read for young adults. And for the censors who might fear that the language in the book will be a bad influence on kids, I say, "they have heard these words before." And maybe the straight-laced, non-drinking Nick and Norah, high on meeting each other, will have a positive influence instead."
Jen Robinson writes Jen Robinson's Book Page to promote the love of books by children and the continued reading of children's books by adults. This review was originally published on her site and is reprinted here with permission.