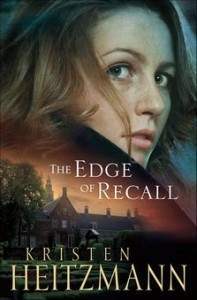 I admit it. I am a scaredy cat. Because of my irrational fears, I rarely read suspenseful novels or watch television shows that might keep me up at night. So, when I received The Edge of Recall
, I was concerned about reading it. The story is about Tessa Young, a landscape architect who specializes in the creation of labyrinths. Tessa has had nightmares since she was a child, and while working on a labyrinth with a former colleague (also a former boyfriend) the nightmares turn into reality.
While I admit that I chose to read this book only when my husband was home (so he could protect me from the bad guys), I enjoyed it. It was certainly a page-turner, and the ending included an unexpected twist. The friction between Tessa and her colleague Smith Chandler added a romantic aspect to the story, and reading about labyrinths and their history added another dimension as well.
If you enjoy suspenseful novels, I encourage you to read The Edge of Recall
. We have one copy for a lucky winner, so please leave a comment if you are interested. We'll draw the winner next Wednesday.
Including this one, we have three live giveaways for this week, so be sure you've entered them all!

The winners from last week's giveaways are

#1 Lindsey wins the Chronicle of Faith book.

#12 Jennifer wins a copy of Self Talk, Soul Talk and Set Apart Femininity.
Lauren is a wife, a mother of two, and an avid reader. Lauren blogs at Baseballs and Bows.