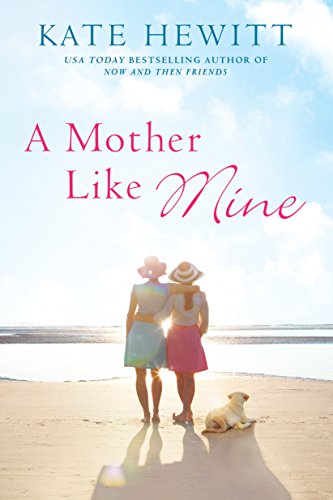 A Mother Like Mine is listed as Kate Hewitt's third Hartley-by-the-Sea novel. It seems that these novels are simply tied together by a place and a town. I certainly did not feel as if I were missing anything. Looking at the two other novels, they do feature characters who were mentioned in this one, and I'm sure that the main characters in this one might figure in the others, which would be interesting. I certainly enjoyed the setting and would like to read more about those from this mostly working class British town by the sea. I loved the British setting and the slightly different language, weather and custom that makes it feel a bit like an armchair travel adventure.
Abby Rhodes runs the local cafe with her grandmother, who actually raised her for most of her life. She left the small town to attend college, but returned a couple of years ago after some personal setbacks and after her grandmother got ill with heart disease. When she came back, she didn't feel like she had many other options, but she's actually happy. Her son is settled well in the local school, they both have friends, and though business isn't really booming, Abby has made a few changes at the cafe of which she's proud.
She's worried about her grandmother's health. She's not sure she should be working as much as she does, and she does a lot so that Abby can also look after Noah. When Abby's mother shows up out of the blue, Abby feels completely out of control of her life. Why is she here? What is her plan? When is she leaving? And if she's here, why can't she at least help out?
Laura left when Abby was two years old. Their relationship has consisted of a few visits but has been virtually non-existent, especially since her mother moved to New York City. Her stylish clothes, makeup and hair make her appear an outsider, even though she was raised in Hartley-by-the-Sea just like Abby was. Laura wants a relationship with her mother and daughter and grandson, but she's not sure she's earned it. There is so much bitterness there, mostly because Abby never knew exactly what happened, and Laura certainly didn't come with an explanation or apology.
The relationships between the women — and between the other characters in the novel — are sincere and likely mirror something in your own life. Many of us have obstacles that impede closeness in relationships, whether they are created by choice or circumstance or mistakes, and so it was interesting watching the characters navigate through them.
I enjoyed this novel. It was a simple easy "beach read," yet had enough character development to keep me interested. I've found lately that books are nothing but fluff — with no humor or conflict — just don't keep me turning the pages.
The cover is odd. I don't think there's a dog in the family, and there was certainly never a scene like that in the novel.