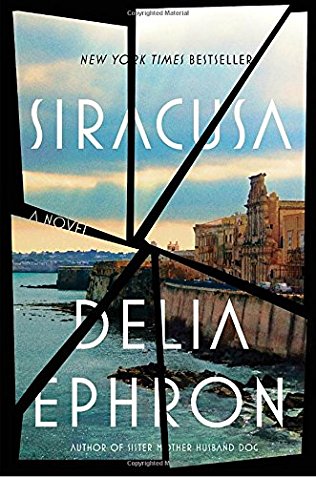 There's nothing like taking a vacation with someone to really test the mettle of your friendship, and when couples vacation together, sometimes the flaws and rifts in marriages are revealed. And so it is in Siracusa, the latest novel from Delia Ephron. Lizzie and Michael, Taylor and Finn, travel together to Italy, and what happens on that vacation changes the 4 lives forever.
The novel is told from 4 points of view and Ephron does a masterful job of revealing characters through their own views on the world, sometimes describing the same event from more than one interpretation of it. The main character is probably Lizzie and she's the one I think we relate to the most. She and Finn dated for a while, when they were young, and have maintained a friendship via email although he's in Boston and she's in New York. When the two couples run into each other while both are vacationing in London, they decide to travel together to Italy the following summer. Taylor and Finn bring along their 10 year old daughter, Snow, much to Lizzie's disgust–she though this was an adult vacation. But Snow is a bit of a cipher, a silent child, completely overshadowed by her overbearing mother and yet although we're never in her head, it's obvious that she is observing and judging the world around her in relation to herself, as one does at that age.
The pacing and phrasing of the novel foreshadow a climatic event, one that has put all 4 into therapy and jeopardized previous existences. You know it's coming but you can't help but watch in fascination as Ephron expertly strings us along; the couples meet in Rome, we learn a bit of backstory, we watch them at dinner, at a fountain, meeting in a bar. Snow shows a bit of backbone, and it's interesting to see the various adults interpret it in different ways. When the action moves on to Siracusa, a historical town on the Sicilian coast, things begin to draw to a head as emotions run high.
I enjoyed Siracusa. I loved the differing points of view, the insider's look into two marriages and 4 heads, and viewing events from more than one perspective. The pacing was methodical and engrossing, encouraging the reader to read slowly and carefully, noting details. Highly recommended; a great beach read.