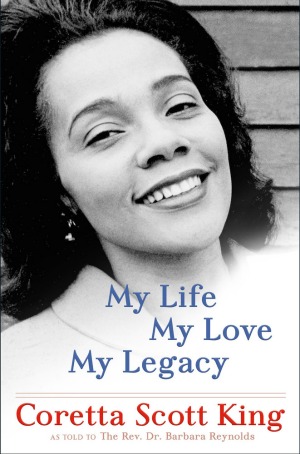 A few weeks ago, I heard that there was a new Coretta Scott King memoir that was being released in January, and I had a moment of forgetfulness, thinking that she was still alive. Unfortunately, I was quickly reminded that she had passed away over 11 years ago. The Rev. Dr. Barbara Reynolds, a journalist who became a close friend of Coretta Scott King's for many decades, compiled this memoir from her many years of interviews, conversations, and travels with her. My Life, My Love, My Legacy is an intensely compelling read, giving personal insights into the life of a woman who faced hatred with perseverance and love.
Growing up, I learned what most American children do about Dr. Martin Luther King, Jr, and I knew that Coretta Scott King was his wife. As a fan of children's literature as an adult, I'm always interested in the American Library Association's annual awards, one of which is named after Mrs. King and is awarded to "outstanding African American authors and illustrators of books for children and young adults that demonstrate an appreciation of African American culture and universal human values."
Admittedly, I knew very little else about Coretta Scott King, so I was excited when this new memoir became available at my local library. I began reading with fervor, instantly captivated by the stories of her childhood and heartbroken to read about the many, many losses she suffered in her life. Living in the South under Jim Crow laws, she was bombarded with the idea of being a second-class citizen. When King was just 15 years old, her family narrowly escaped death when white racists set fire to their home. Unfortunately, that would not be her only close brush with violence and terror.
King chronicles her pursuit of higher education, her early relationship with Martin Luther King, Jr., and her own calling to serve the Civil Rights Movement. Her strong Christian faith never wavers, even in the face of her husband's assassination, as well as the murder of her mother-in-law. After her husband's death, King worked tirelessly for decades to continue on the path of nonviolence and education that he had forged.
I didn't know much about her life before reading this memoir, but after finishing it, I feel such a strong sense of admiration and love for Coretta Scott King. With her name in the news just this month with Senator Elizabeth Warren's attempt to read a letter of hers on the Senate floor during the confirmation hearing for the position of Attorney General, I was reminded of just how powerful her words could be. Indeed, it can be said of Coretta Scott King, too– nevertheless, she persisted.