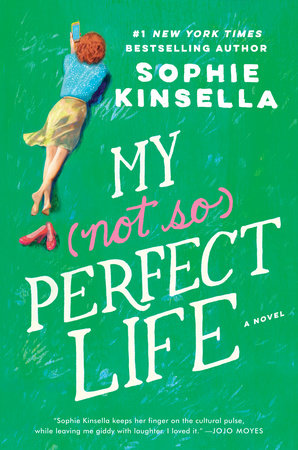 Katie Brenner–sorry, make that Cat! Cat Brenner–is living the dream. A country girl raised by a single father after her mother's death, she always dreamed of living and working in London, and now she does! Sure her commute is an hour and a half of misery, crammed with all of humanity into a hot noisy tube, and sure her job is very junior and often ignored, and sure her shared flat is filled with boxes of whey ordered by a roommate who's planning to sell it, so that Cat can't actually reach the stove to fry her eggs for an exciting and mindful supper. But Cat is still careful to make sure her instagram feed is full of trendy restaurants, photographed from the outside since she can't afford to actually eat there, and other artfully-composed shots of a fake life. It's easy for Cat to see other people's perfect lives, whether that's her college friend Fiona whose life in New York is filled with weekends drinking pink martinis with friends to jaunts to the Hampshires, or her boss Demeter with her gorgeous family, glossy hair, and evenings spent representing the company at exciting and expensive events.
Demeter is a mixed bag, in Cat's opinion. She has a hard time remembering Cat's name, for instance, and there are rumors of her losing emails and messing up accounts. On the other hand, she's brilliant. Cat's learned so much about branding from her. Still, it's pretty brutal when Demeter fires Cat–and to add insult to injury, can't remember if she's done it or not. The timing couldn't be worse. Cat has just started getting involved…maybe…with Alex, attractive, rich, connected, and she's sure she felt a spark.
Cat ends up leaving her dream and returning to the family farm in Somerset, where she lets her hair go curly, gains 5 pounds eating her stepmother's freshly-baked scones, and reverts to her earlier nickname of Katie. She can't stand to let down her dad though, who's always been so proud of her, so she spins the tale that she's on a 6-month sabbatical, and helps her parents start a "glamping" business, complete with yurts, activities for all ages, and an outdoor shower–rustic but still glamourous. She uses all her hard-won skills to create marketing materials and after a write-up in the Guardian, the family find themselves fully booked for the summer. But when Demeter and her family show up as campers, Katie's desperate to hide.
Hilarity ensues, as Katie gets a bit of her own back on her old boss. But deeper things are going on as well. Is Demeter's life as perfect as Katie thought it was? Is Katie's as bad as it seemed?
Sophie Kinsella (of Shopaholic fame) is adept at creating characters that are funny, quirky and appealing, and her latest work is no exception. Her books are humorous and light but manage to still communicate deeper truths–the importance of family, of being true to oneself, and how to navigate the murky waters of social media, for example. My (not so) Perfect Life is an enjoyable read that nonetheless manages to stick around in the reader's mind.