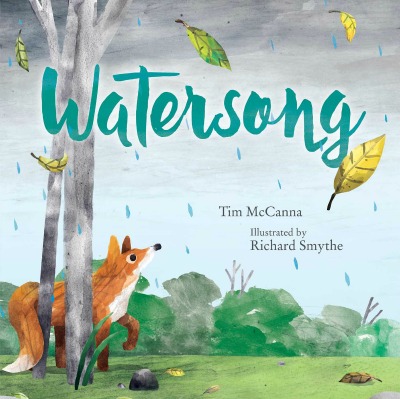 Nature-themed picture books have a special place in my heart. Encouraging children to notice and observe the natural world around them is a worthy endeavor, and children's literature can take on this powerful task. The new picture book Watersong by Tim McCanna and illustrated by Richard Smythe is a celebration of both nature, specifically the delight that can be a rainstorm, and the beauty of language.
Think back to your elementary school years, and you may remember first learning about onomatopoeia, or the formation of a word based on the sound associated with it, like the words buzz, splat, or flutter. I've always loved this concept, and its application in children's literature makes perfect sense. Children love to "play with" language, and onomatopoeic words make a read aloud experience fun for young kids who will inevitably repeat back the sounds.
In this book, gorgeous watercolor illustrations show a fox bounding through a forest just as a rainstorm is beginning. As it journeys along, other forest creatures are shown taking shelter or, as in the case of four little white ducks, happily splishing, sploshing, swishing, and sloshing as the rain patters down. Those are just some of the onomatopoeic words that make up the text, a few words on each page as the action takes place in the illustrations. The rain gathers strength, and the wind picks up, as do the descriptive words, all until the fox is able to meet back up with its family and relax in the now glowing sun and shimmering rainbow.
I'm a huge fan of this beautiful book, and with spring just around the corner, I recommend it for families with young children, as well as educators and librarians for a rainy-day story time.