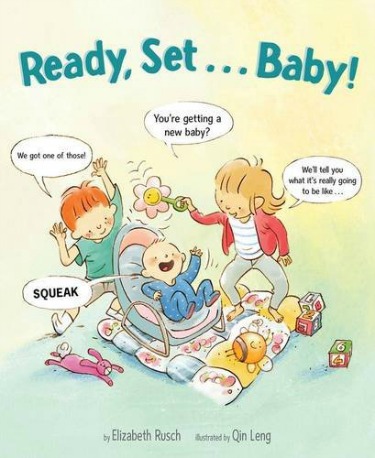 For parents looking to help prepare their young child for the arrival of a new baby, picture books can often be helpful. Elizabeth Rusch's book Ready, Set . . . Baby!, illustrated by Qin Leng, is a new addition to this genre, and it provides children preschool age and up with a realistic, and often quite funny, view of what life will be like when their new siblings arrive.
Big kids Anna and Oliver are experienced older siblings who speak directly from the pages of this book to the audience of young readers. They talk about how challenging the long wait can be before a new baby is born, and they share the changes they noticed in their mom as her pregnancy progressed, which from a child's perspective is all about them– no more lap sitting or being chased around the playground. They share what it's like to see a newborn baby for the first time, and how they may not look exactly like the baby dolls some kids might be used to.
From the various noises newborns make to their common activities– sleeping, eating, farting, pooping, and crying– Anna and Oliver give a pretty practical picture of life with a new baby, from a child's viewpoint. They share different ways that big siblings can be helpful, but they also acknowledge the difficulties that may arise, like wanting time away from the baby or having to deal with all the attention and gifts lavished onto the new one.
I like the conversational style of this picture book, and I see it as being useful for reading with young children as they await the arrival of a new baby and in the months following, as they are still dealing with the big change to their family. The tone is actually quite empowering and those big siblings need to be reassured of their importance when a new baby becomes the focus. Add this one to your reading list if you're preparing a child to become a big brother or sister!