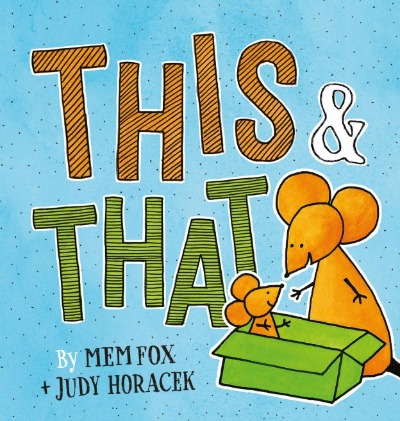 Picture books very often utilize animal characters for storytelling purposes. Three new picture books from Scholastic offer stories for young readers with varying levels of complexity, and all feature spirited animals in their pages.
First up is Mem Fox's newest release, This & That, with illustrations by Judy Horacek. Like their other collaborative works, this latest picture book is perfect for young children, and especially fitting for a short bedtime reading. A presumable parent mouse is prepping its baby mouse for bed on the opening page with the words, "I'll tell you a story of this, and I'll tell you a story of that." What follows are one-sentence tidbits of stories accompanied by illustrations that show the mice viewing the stories' scenes, filled with silliness and descriptive language. This would likely be a quick read, but those who are experienced reading aloud to toddlers and preschoolers know that much time can be spent examining the illustrations, and there is a lot of fun to be spotted here.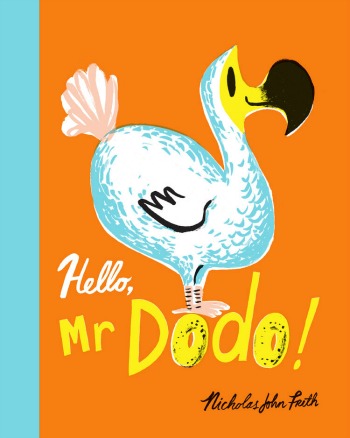 Nicholas John Frith's Hello, Mr. Dodo! is a delightful celebration of animals and the need to protect them. A little girl named Martha simply adores birds, and while she's out tossing seed and greeting the songbirds in her neighborhood, she grabs her trusty binoculars and spots an unfamiliar, very large bird in the woods. After befriending and observing it for a bit, she goes home to do some research. When she learns that it is actually a dodo, a bird that's been extinct for hundreds of years, she decides she must keep her discovery a secret. But secrets can be challenging for a kid to keep, and Martha soon finds herself in a tight spot. How will she protect her new friend? I quite appreciated the presentation of an independent and capable young girl who follows both her interests and her heart.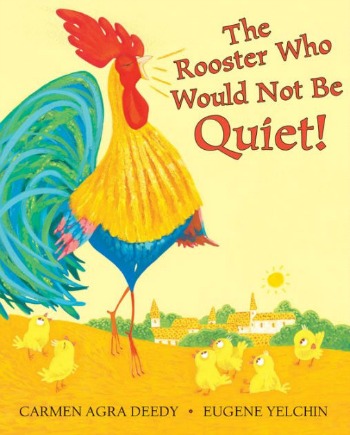 The Rooster Who Would Not Be Quiet! is written by Carmen Agra Deedy and illustrated by Eugene Yelchin. There is a wonderful, layered complexity to this book making it enjoyable for young and older children alike. A noisy village is exhausted by the constant cacophony, so they elect a new mayor who promises to bring some quiet to their community. Quickly, though, his small suggestions become all-encompassing laws that completely change the feeling of the village as a whole. Just then, a rooster and his family move in, and his loud singing bothers the mayor so much that he takes some drastic steps to silence him. However, no matter what the mayor does, he cannot break the rooster's spirit and his need to sing. Parents and teachers can use this book to introduce older children to the idea of peaceful protest and giving voice to what you think is right in the face of extreme leadership. Allegory in a picture book can be a powerful tool!
From toddlers to elementary school kids, picture books can provide entertainment and help provoke thoughtful conversation. Thanks to Scholastic for these new releases!