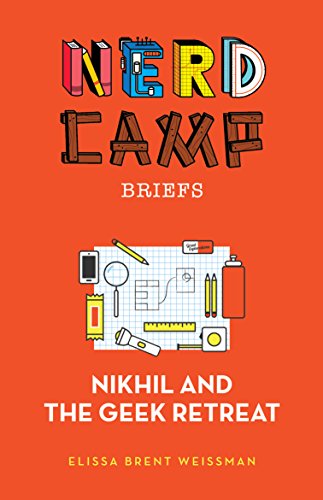 Nikhil is so excited to go to the Summer Center for Gifted Enrichment Winter Retreat. He'll be able to meet up with his best buds, Wesley and Gabe, and of course experience some in-depth learning and problem solving. His parents want him to go, but they are also sending his sister, Monishah, and have let Nikhil know that if it doesn't go well, he might have to stay home next summer to take care of her.
So now Nikhil is not only determined to have a great time reuniting with his friends, but to make sure that his sister enjoys herself, and stays out of trouble. The first part might not be a problem, but he's afraid that all the freedom of camp will open the door to problems that his parents and the camp director can't even imagine.
Nikhil and the Geek Retreat is the first in the Nerd Camp Briefs series. I enjoyed getting to know Nikhil's family, and experiencing the difference of winter camp, versus summer.
It's no secret that my kids and I LOVE Elissa Brent Weissman's books. In fact, after Amanda and I read Nerd Camp (check out my full review if you aren't familiar with the series), I nominated it for the Cybils, and I was thrilled when it actually won!
By the time Nerd Camp 2.0 came out, Kyle had already fallen in love with these lovable (and proud!) nerds.
Read about how and why the author worked to release this novella — the first in a planned series — in my post at 5 Minutes for Mom: Can't Wait for a New Book in Your Fave Series? You Don't Have To.